I am so excited to welcome The Scarlet Thread Quilt Co.
as
Happy Quilting's newest sponsor!!! Julie Boldry, owner and operator, opened The Scarlet Thread Quilt Co. just under a year ago!!

I asked Julie to tell me a bit about what got her started in her quilting journey. This is her story in her words :)
I have always loved fabric and enjoyed making things. I remember spending hours at the fabric store as a child while mom picked out our next outfit. I had always been around quilts as my great-grandmother quilted, but they were more of a utility item not a treasure. As a teenager, I desperately wanted a comforter from the store instead of the quilts on my bed!
So, in my need to be creative, I tried lots of outlets...calligraphy, paper crafts, embroidery, knitting (that ended badly!) , the list goes on and on. So, when some friends invited me to their quilting day, I wasn't too sure. I went, reluctant about quilting, but looking forward to a day with friends. My third daughter was 14 months old and I needed some grown-up time. ;) After that one day, I was hooked! Long story short, The Scarlet Thread Quilt Co. was born! I opened my long-arm business in Spring 2008, started designing patterns in 2010, and expanded into fabric sales in April of 2012. (Apparently, i get very inspired to start new things in the springtime!)
The tag line for The Scalet Thread Quilt Co. is: where modern and traditional meet. Julie says that means a couple things. First, it means they sell modern fabrics for a traditional craft like quilting/sewing. Well that is for sure. A few examples .
How about some of this Amy Butler, Gypsy Caravan Fat Quarters. So pretty :)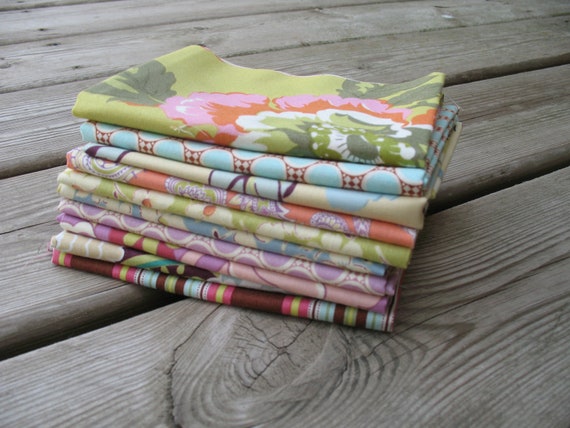 Or this stunning Lime and Aqua collection that Julie put together. Love It!!!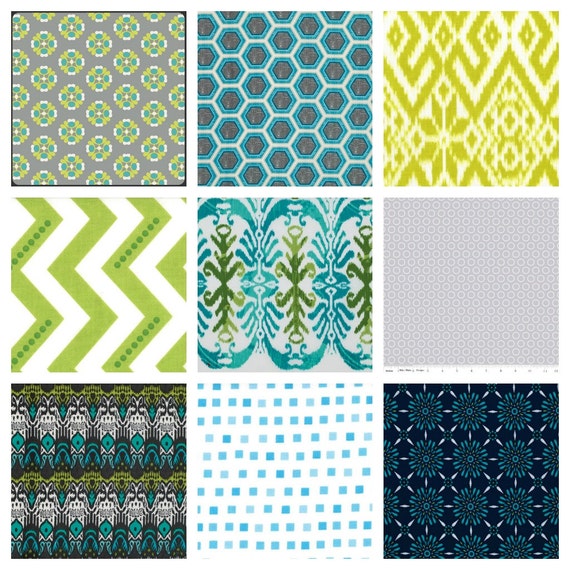 And seriously, who doesn't love a little Flea Market Fancy??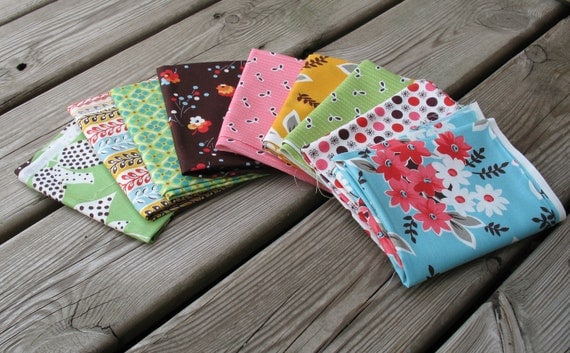 The second thing Julie says where modern and traditional meet means is that she offers modern services in a traditional way. She sells via the internet and ship orders all over the world, hence the modern part. But she does it in a traditional way, with excellent customer service and treats people how they want to be treated. And I couldn't agree with this more. It is so nice to find shops that still put so much value on wonderful customer service.
And as part of their welcome debut . . . The Scarlet Thread Quilt Co. is giving away a $25.00 Gift
Card
to one lucky winner!!!
three chances to win, please leave a separate comment for each. And since The Scarlet Thread Quilt Co. is a brand new sponsor here, I thought it might be nice for your entries to allow you to get acquainted :)
1 - Visit The Scarlet Thread Quilt Co. shop and leave a comment of what item you might want to use your $25.00 Gift Certificate on.
2 - Subscribe to The Scarlet Thread Quilt Co. blog

and leave a comment that you did so.
3 - Like The Scarlet Thread Quilt Co. on Facebook and leave a comment that you did so.
So that's it :) The giveaway will close on Sunday Mar 10th and I will announce a winner shortly after. Good Luck to all and Happy Quilting!!!