Today, I am thrilled to be sharing this brand new Steps to Tranquility quilt as well as a Free PDF Pattern for it!!! This quilt features the Love You S'More by Gracey Larson and is super 2 1/2" Strip friendly, so you can grab a Rolie Polie/Jelly Roll and get stitching!!! .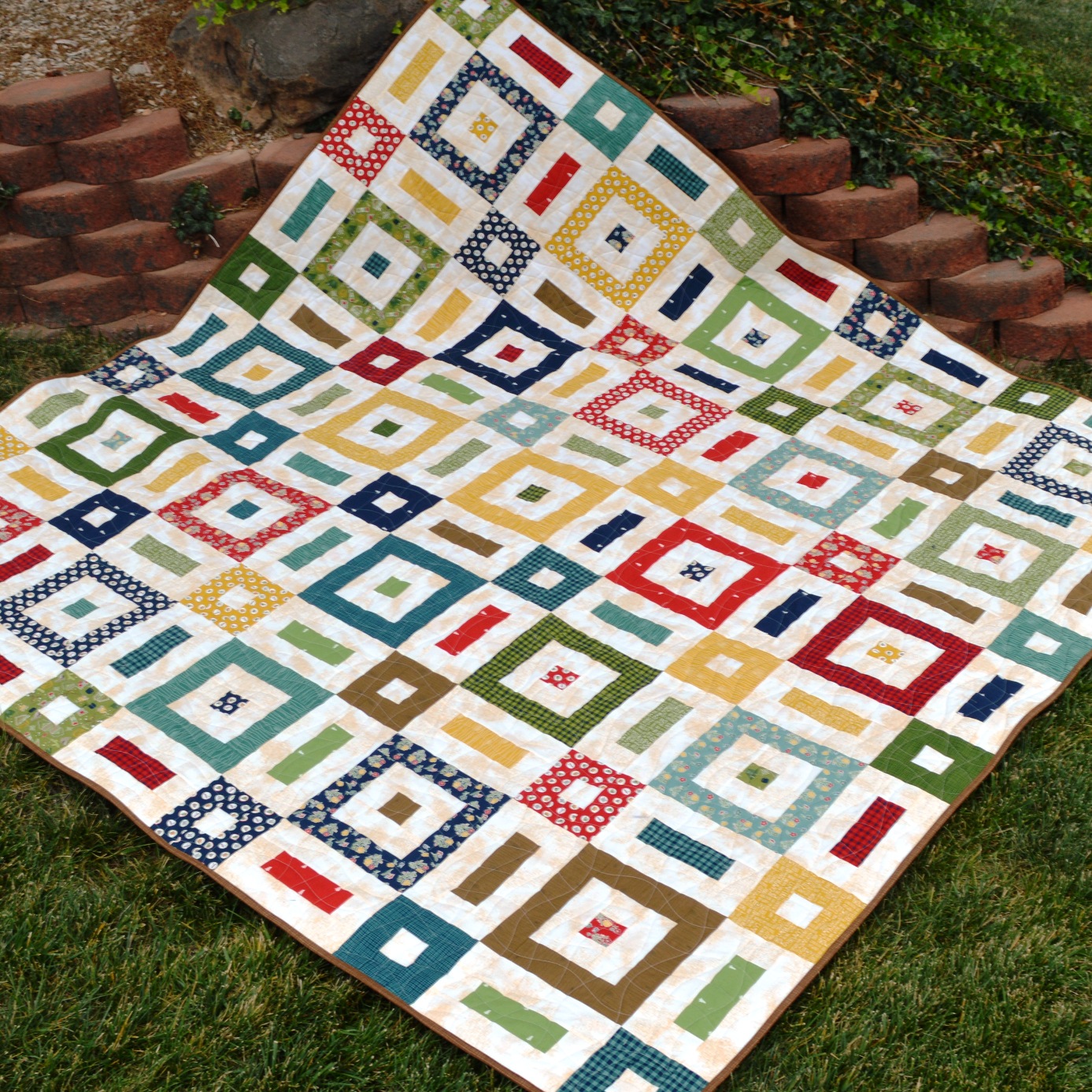 I am just loving making quilts for the family's new cabin and Love You S'More is perfect for a fun camping quilt ;) And the Shabby Beehive Cloud background was the perfect match to make all of those colors just pop!!! As soon as I saw the fabrics, I knew I wanted to make my Steps to Tranquility quilt that I originally made back here. I just love the basic geometric goodness to it, and I knew it would be perfect for the mountain, since that is truly one of the most tranquil places I visit.
Steps to Tranquility is made with basic piecing. I altered the original design to make it 2 1/2" Strip friendly, and that makes it come together so much faster!!! I just loved whipping this up ;) It is made up of one basic block, a cornerstone block, and a sashing block. The three blocks come together to make this fun geometric almost plaid look. So perfect for a picnic ;)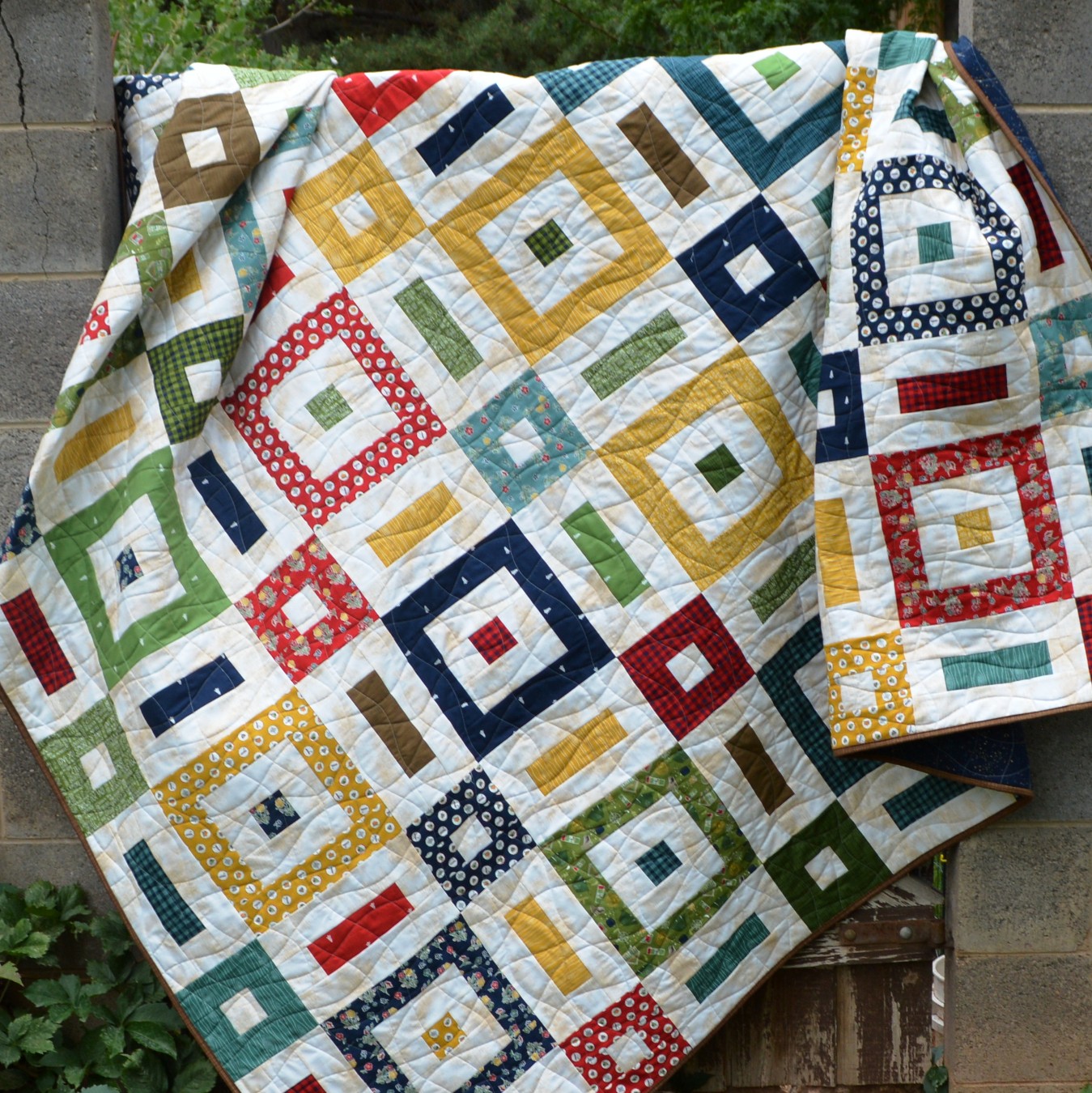 The blocks really go together fast, and then it is just so much fun to lay them all out and play with the color and print placement. Before you know it, you will have a beautiful Steps to Tranquility quilt top that is just waiting to be loved.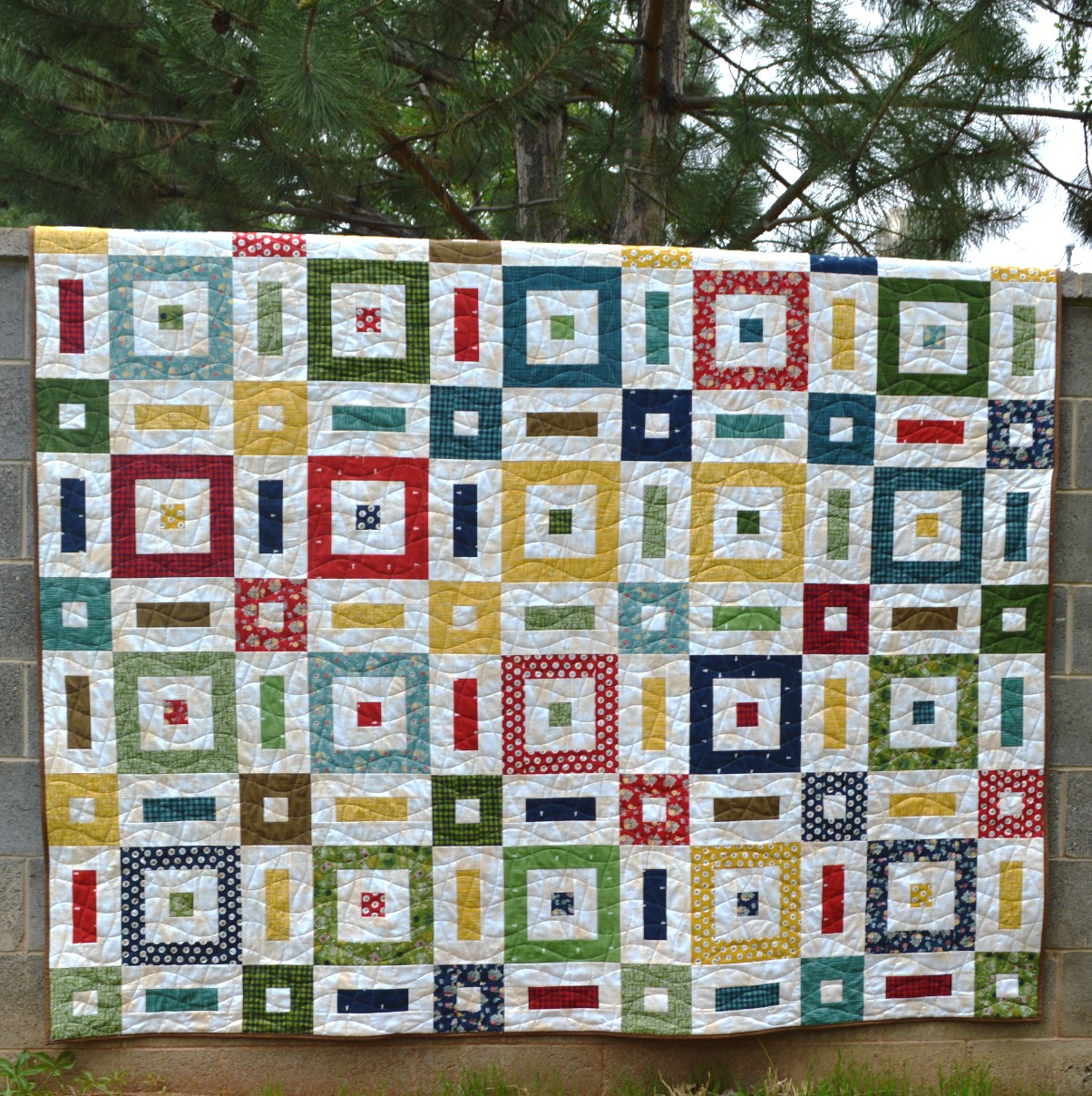 And as I mentioned, there is also a free PDF Download of this pattern and I included 5 size options, so you can make this quilt in just the size you want without any quilt math. The quilt I showed is the Picnic size, and I already have a Lap size planned as well :) To get the FREE PDF Steps to Tranquility Pattern Download, just click here and download it ;)
And when it came time to quilt mine, I took full advantage of the simple patchwork grid lines. I decided to do a wavy crosshatch and it turned out oh so cute. And I love that it is not to dense either so that this can be a great snuggle up in quilt ;) Sometimes it is just fun to keep it a little softer.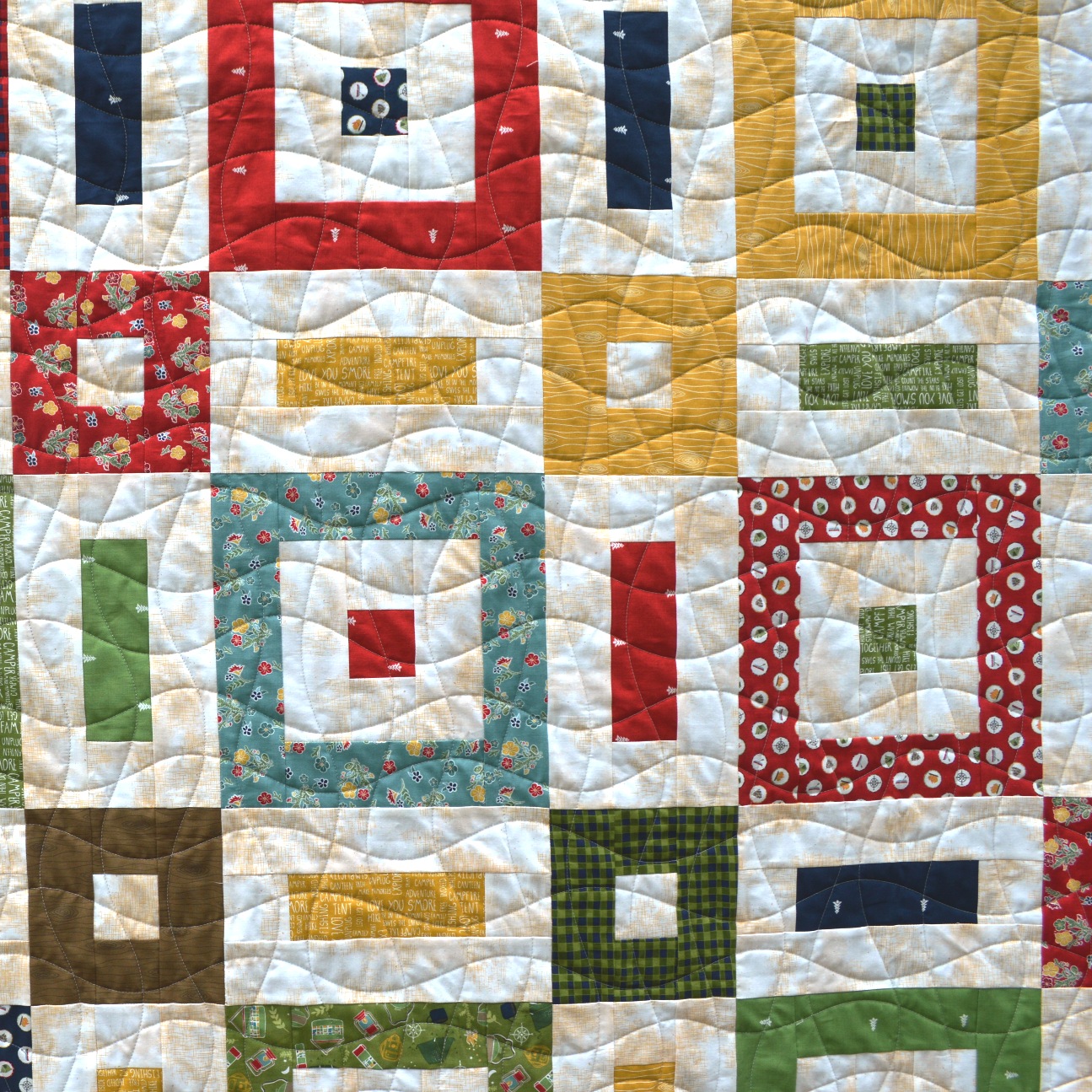 And that is my Steps to Tranquility quilt!!! I hope you have enjoyed this post. Oh, and if you make your own Stitch To My Lou quilts, I would love to see them! You can share your quilts in any size with me on social media using hashtags #happyquiltingwithmc and #rileyblakedesigns and tagging @happyquiltingmc or email me a picture at happyquiltingmelissa@gmail.com. I can't wait to see your Steps to Tranquility quilts !!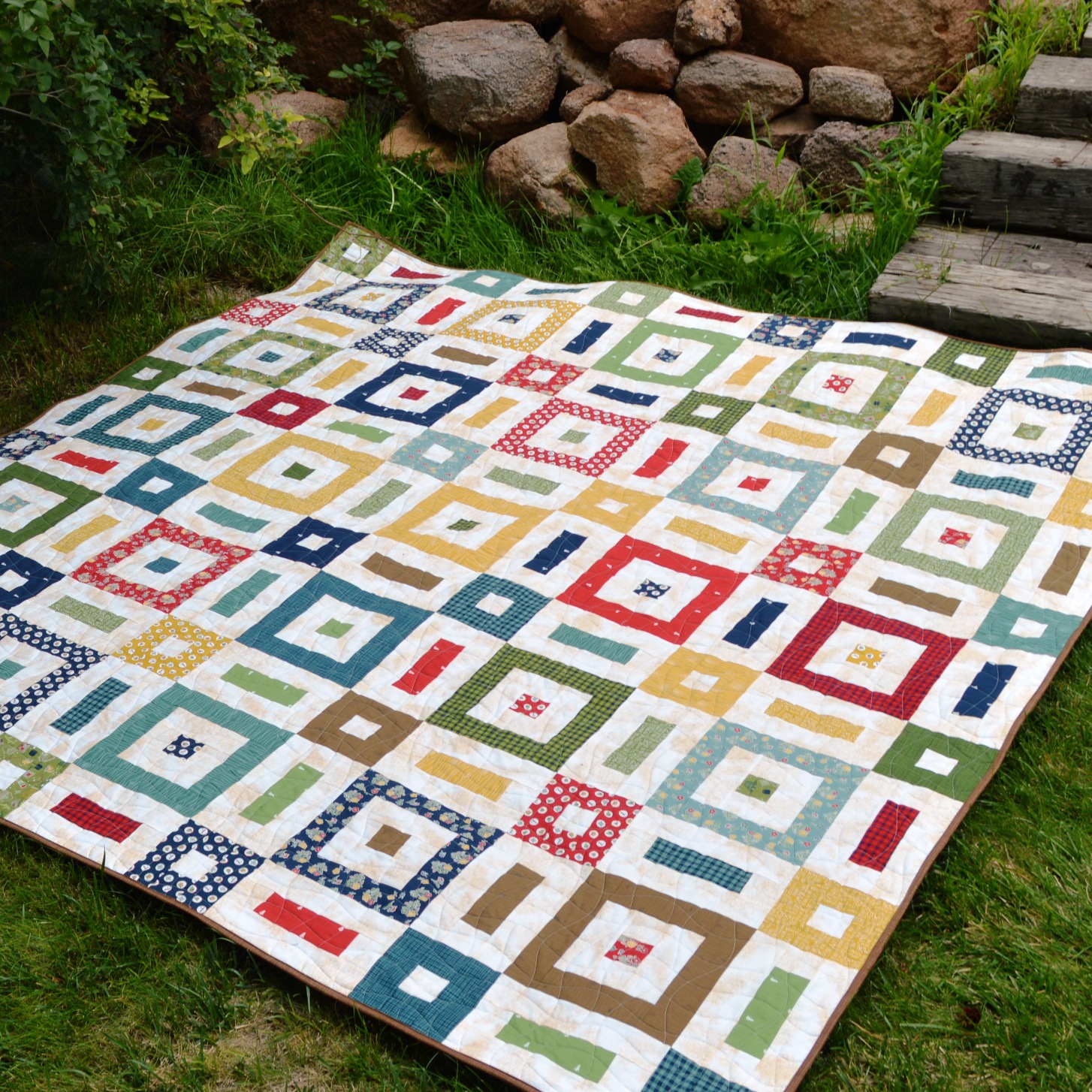 Thank you so much for popping in today and each and every day. If you have any questions at all on making your own Steps to Tranquility quilt, don't hesitate to email me at happyquiltingmelissa@gmail.com
I hope you all have a very Happy Quilting Day!!!