Hi all!! Today I am super excited to be sharing some of my newest quilt finishes :) And here they are . . . the Nice Ice Charming Baby Quilts!!
As soon as I saw the adorable Nice Ice Baby Collection by Deena Rutter I knew that I had to make some Baby Quilts with it!! It is just so cute, and I love that the prints really read "boy" because we all know, it is hard to come by "all boy" baby fabric. So I went to my Charming Baby Quilts book, and picked 2 Charming Quilts to be made up in Nice Ice Baby! I grabbed some Nice Ice Baby 5 Inch Stackers and some background fabric and away I went.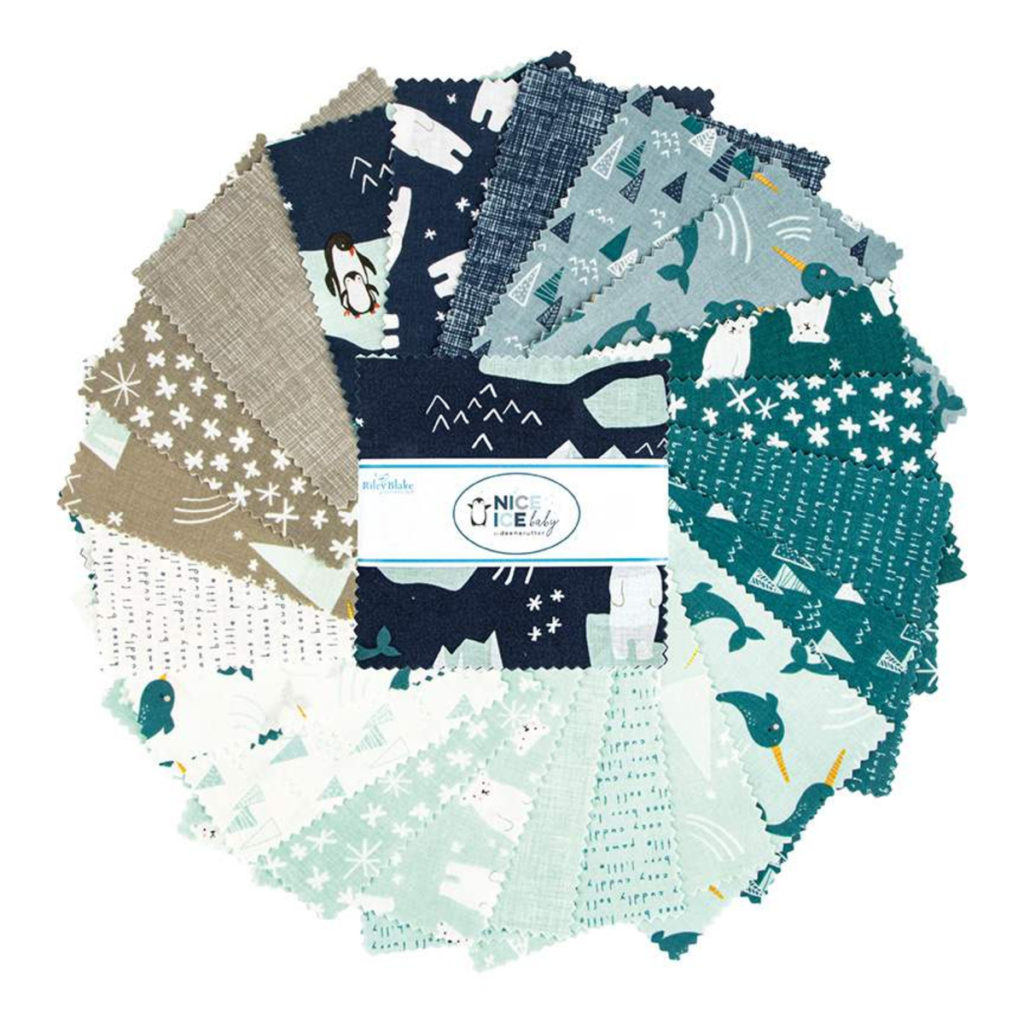 So first up . . . A Star Is Born. Ya, you knew this was one of the quilts I was going to pick right :) It is probably my favorite in the book, and I have loved seeing all of the many versions of it you all have made!!!
This is such a fun baby quilt to make and really lets you enjoy some HST goodness! It uses Two 5 Inch Stackers and 2 yards of Background Fabric, which I used Navy Sparkler for. It is the perfect match for Nice Ice Baby, and I love the little bit of metallic that pops in all that negative space.
And when it came time to quilt mine, I opted for a favorite all over Echoed Paisley free motion design. I love all of the added texture it gives the quilt and how the curves add a fun element to all of the straight line piecing. And guess in case you are new here, there is an Echoed Paisley Free Motion Video Tutorial on my blog :)
I just love how this one turned out, I don't think I will ever tire of making this particular quilt. It is just classic and makes such a fun gift. And as soon as I finished this quilt, it got me super excited to make a second Charming Baby Quilt :)
So that leads us to. . . Shine Bright!
Shine Bright is a fun way of mixing up a Basic Star quilt, using the print fabric in the background and the background fabric for the star. I just love simple changes to a design that really give it a whole new look!!! Shine Bright uses Three 5 Inch Stackers and 2 yards of Background Fabric, which I used Riley Navy Confetti Cotton for so it would really stand out.
This quilt is another fun one to make and perfect for beginners and experts alike!!! It is made with Half Square Triangles, a few Stitch and Flip Corners, and basic piecing, so it really goes together super quick :) Which is always great for those last minute gifts.
When it came time to quilt mine, I opted for an all over free motion swirl!! You can never go wrong with this design and it always makes for a beautiful finish. And I just loved using Navy thread because it really popped on the prints and blended great in the Navy Solid.
And those are my Nice Ice Charming Baby Quilts! I tell you what, I just love making Charming Baby Quilts, in fact, I have already started another one I plan to share in the near future!!!! To see more of my Charming Baby Quilts Book, you can visit this Page, that shares all of the original Charming Baby Quilts as well as Free PDF's of each quilt in a larger size (just in case you are not in need of baby quilts) and a Free PDF of a Charming Baby Sampler Quilt.
Oh, and if you make your own Charming Baby Quilts, in Nice Ice Baby or any of your favorite Charm Packs, I would love to see them! You can share your projects with me on social media with the hashtags #happyquiltingwithmc and #rileyblakedesigns and tagging @happyquiltingmc or email me a picture at happyquiltingmelissa@gmail.com. I can't wait to see your Charming Baby Quilts!!
Thanks for stopping in today and I hope you are all having a very Happy Quilting Weekend!!!