Hello Quilting Friends! Today I am thrilled to be sharing this Cheater Patchwork Quilt as well as a Free PDF Pattern for it!!! Growing up, we had lots of quilts that were a giant piece of Cheater Print fabric that we then tied. They were our favorite picnic quilts and I have many a fond memory lying under the trees sharing laughs with my family on them. So a while back, I decided to make a pieced version of those cheater prints!!! I took some of my favorite basic blocks, mixed them all up, and wha-la . . .a classic Cheater Patchwork quilt!!!
This Cheater Patchwork quilt is super easy to make, especially because all you need to start is two 10" stackers!!! I used Glamp Camp by My Mind's Eye. I just love the wonderfully soft colors, and the adorable camping prints. As soon as I showed this fabric to my girls, they wanted a cabin quilt from it. My daughters can't wait to claim this as all theirs (and I hear they have plans that only girl cousins can use it :)
As I mentioned, this is a super fun and fast quilt to make. It uses squares, four patches, half square triangles, and quarter square triangles for the blocks. The big key is just letting it all go when you lay the quilt out and keeping it totally random. It creates so many fun designs and really resembles that random cheater print ;) And for fun, I let my girls lay the quilt out before I sewed the blocks together. They had so much fun playing with all the prints and colors and mixing and matching the blocks. In the end, I think they did a great job on balancing colors and prints and now it is all the more special for them ;)
I originally made this quilt as a Christmas Quilt using Carta Bella's Christmas Deliver Fabric line. Isn't it just as fun as a Christmas quilt. Now I totally want to make a 4th of July version so we can watch fireworks on it. And I totally love American Dream by Dani Mogstad and think it would be perfect for this design. Add another quilt to the list!! Oh, and just for reference, when I made the Christmas version, I also shared a free Happy Quilting Tutorial, that walks you through how to make it step by step. This is a great option to check out, especially if you are new to quilting!!!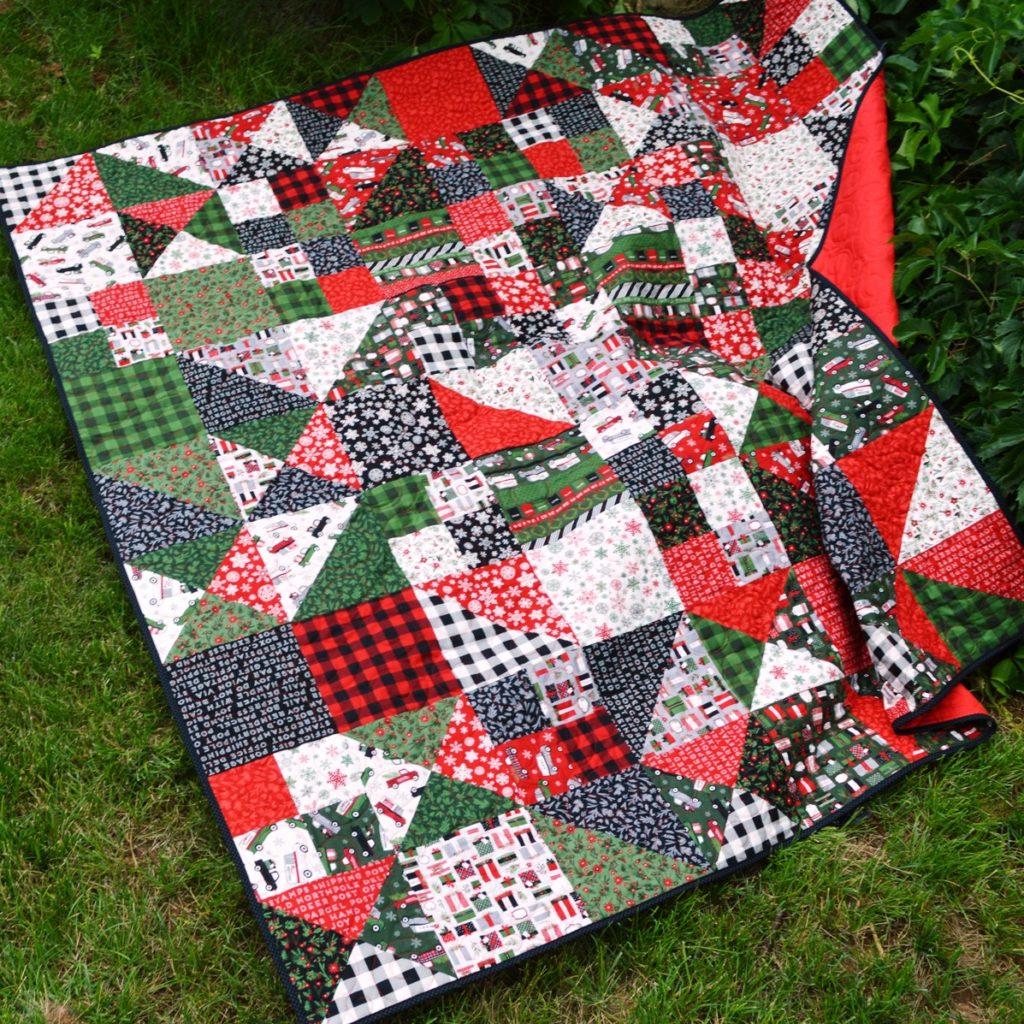 And as I mentioned, there is also a free PDF Download of this pattern and you can totally make it up in a week or less! It finishes at 72 1/2" x 72 1/2" so it is a wonderful picnic size!!! All you need is any two 10" stackers or Layer Cakes, and prints for binding and backing. That's it!!! Just grab and get sewing!!! To get the FREE PDF Cheater Patchwork Quilt Pattern Download, just click here and download it ;)
And when it came time to quilt mine, I decided I wanted to keep with the theme of "glamping" so I decided a nice loose feather would just look like trailing vines across the quilt top. So pretty and yet still gives you a camping feel. And I kept it nice and loose so the quilt is still super soft and will be great for snuggling in.
And now we just need the snow to finish melting so we can take this up to the cabin and start enjoying the spring season with all it's Glamping (or cabin) goodness!!! I can't wait . . . bring on the camp songs, fires, and most importantly, the smores.
And that is my Cheater Patchwork Quilt!!! I hope you have enjoyed this post. Oh, and if you make your own Cheater Patchwork Quilts, I would love to see them! You can share your quilts with me on social media using hashtags #happyquiltingwithmc and #rileyblakedesigns and tagging @happyquiltingmc or email me a picture at happyquiltingmelissa@gmail.com. I can't wait to see your Cheater Patchwork Quilts!!
Thank so much for popping in today and sharing this finish with me!!!
I hope you all have a very Happy Quilting Day!!!