Hello all. Today I am so excited to share my newest quilt finish with you that features the happy and sweet Ally's Garden fabrics by Dani Mogstad. As soon as I saw this beautiful line, I just knew I had to make a quilt from it. I just love the happy prints and the colors have me so welcoming spring, and hopefully saying goodbye to all that snow soon. So I went to my new Fast & Fun Lap Quilts book, that is re-releasing with C & T Publishing later this month,(more on that soon) and picked the Dutch Day's Lap Quilt to whip up!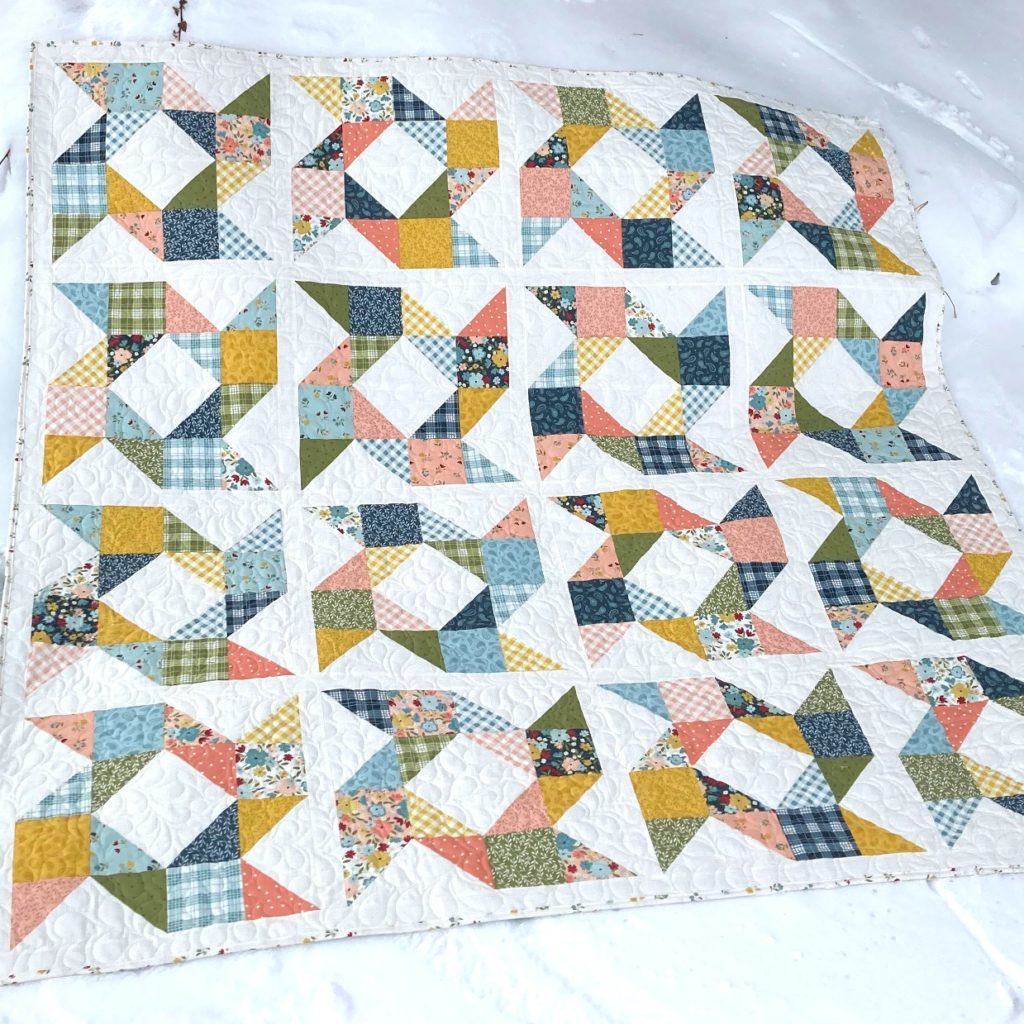 What I really love about the quilts in my Fast & Fun Lap Quilts book is that they are all made from one 10" Square Stacker and a background fabric. So all I needed to get started was a Ally's Garden 10 Inch Stacker and a Texture White Basics for the background and away I went.
Don't those spring colors just go perfectly with these windmill blocks. The original Dutch Days Quilt quilt was inspired by fields of tulips and made with Harmony Fabrics by Melissa Lee. I love this alternate Spring version every bit as much as the original. Isn't it just so fun to see how much a quilt design changes by changing the fabric! And I love that this design allows you to make it look super scrappy, even though it is made with a Layer Cake/10" Stacker. So easy and fun :)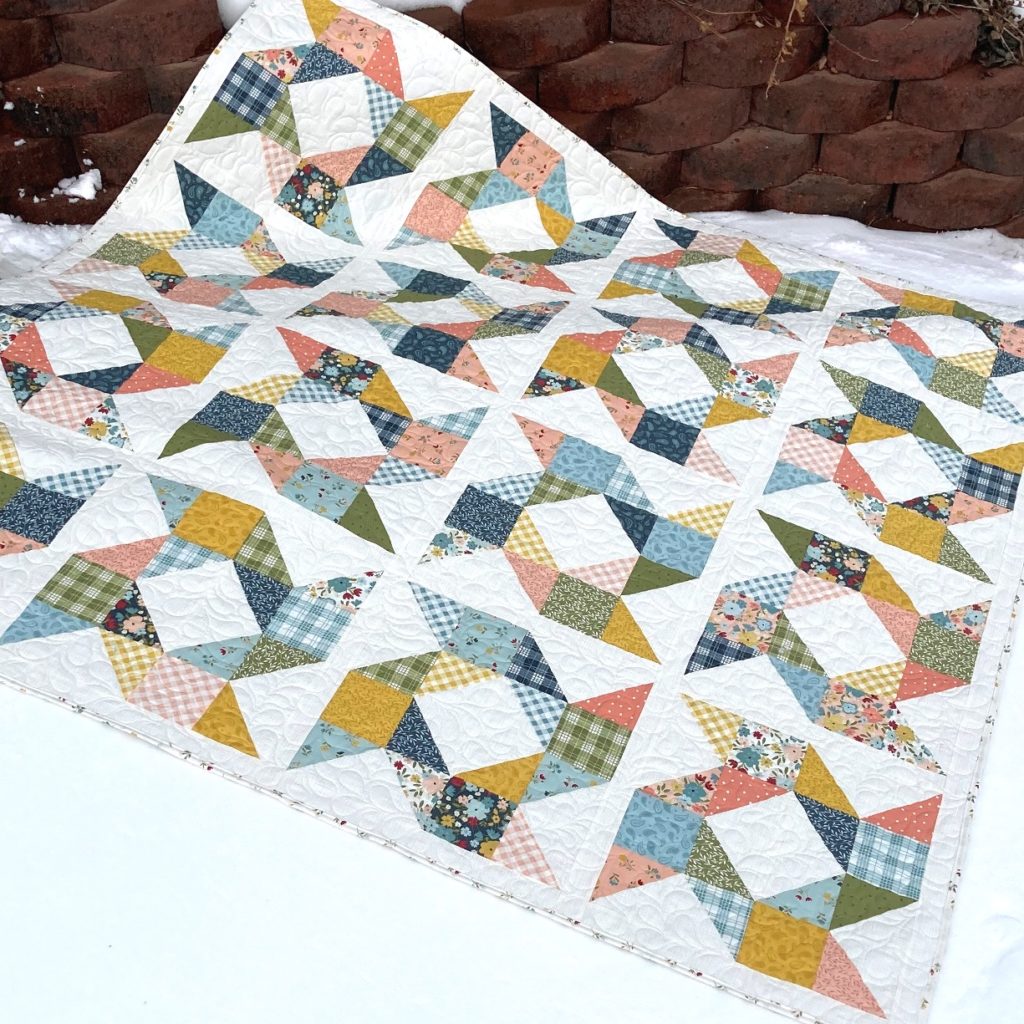 And Dutch Days might look like you will be trimming Half Square Triangle's forever, but guess what, there is not a single HST unit in the entire quilt. It is made using No-Waste Flying Geese Units and if you haven't made those before, you are going to love how these flying geese come together! This whole quilt is super fast and super fun to make and is equally great for beginners and experts alike. Dutch Days finishes at 72" square, so it is a great lap size to snuggle up in.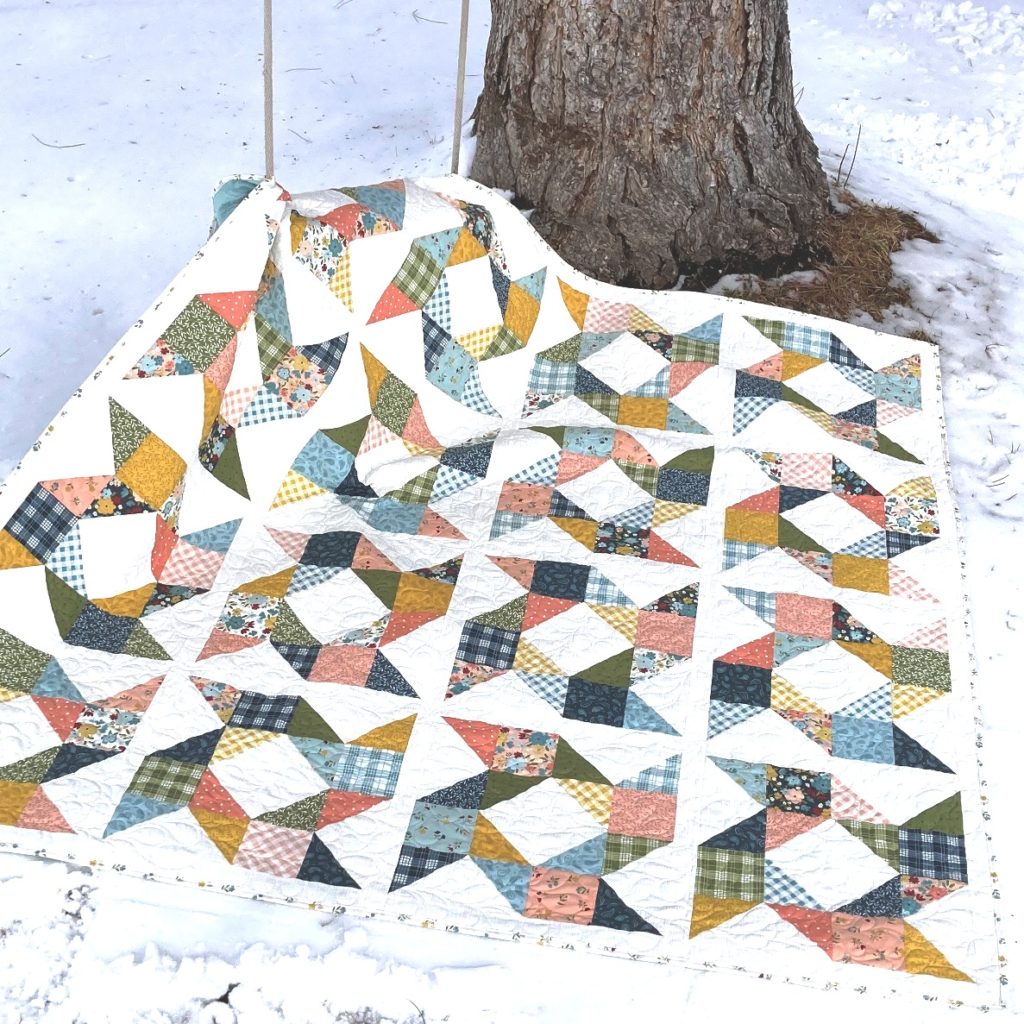 And when it came time to quilt mine, I decided to to an all over Loose Feather design. I love how it complements the paisley print, and gives the look of vines growing across the quilt. It just adds to the movement of those pinwheel blocks. And of course, it is a super relaxing design to quilt and is super fast as well, double bonus!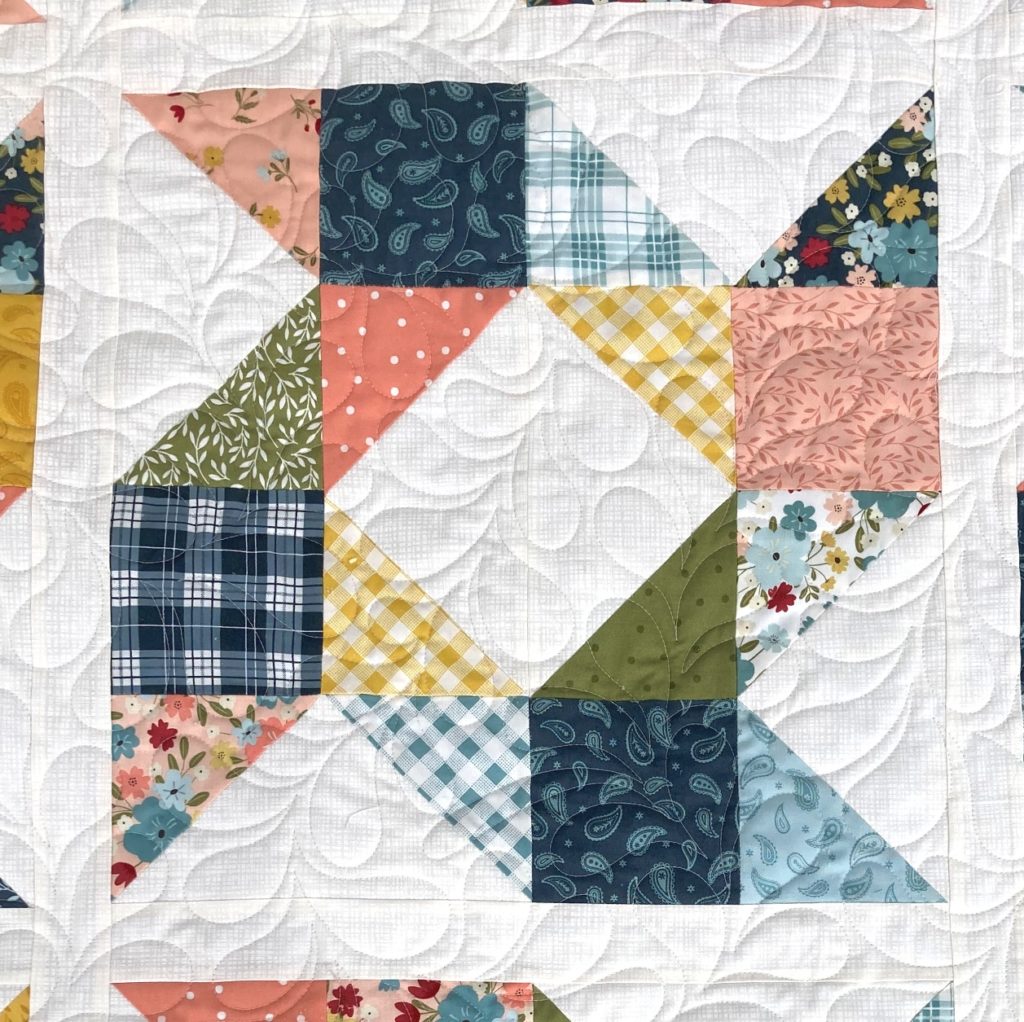 And that is my new Dutch Days quilt! I hope you have enjoyed this post. To see all of the quilts from my Fast & Fun Lap Quilts book, you can Visit This Post with all the quilts and all the details ;) Again, each of the 9 quilts in the book are made with one Layer Cake/ 10" Stacker and a background fabric. It just makes it so fun and easy to whip up these lap quilts!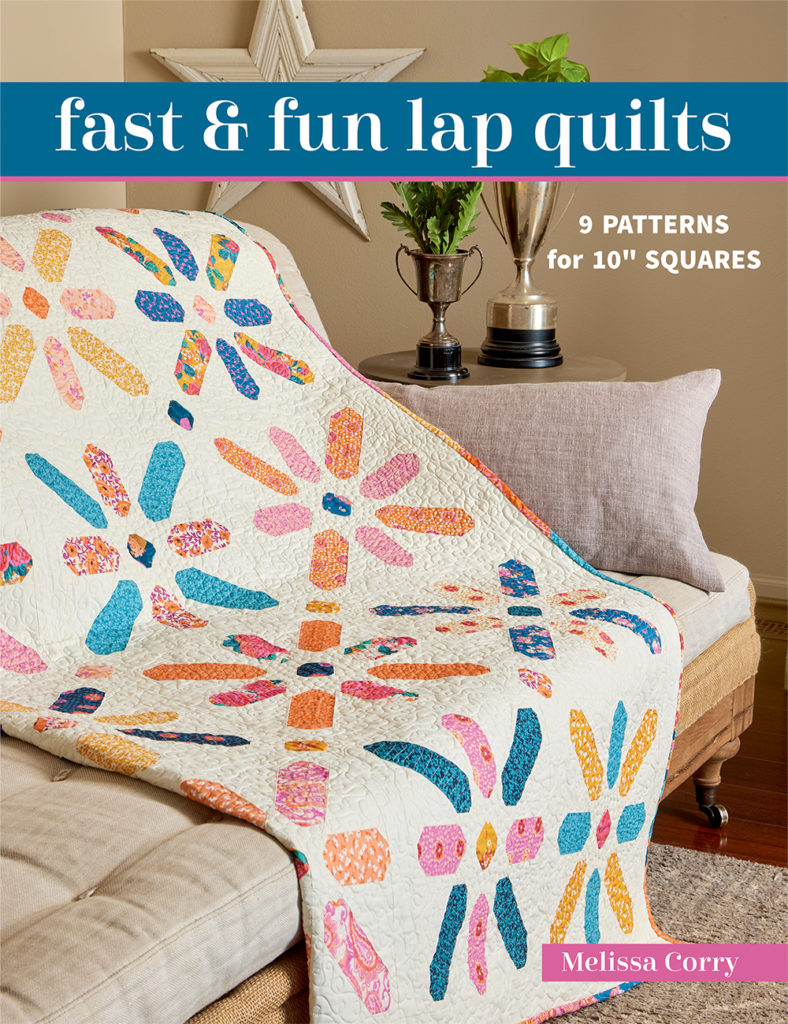 Oh, and if you make your own Dutch Days Quilts, (or any of the quilts from Fast & Fun Lap Quilts ) I would love to see them! You can share your projects with me on social media with the hashtag #happyquiltingwithmc and tag @happyquiltingmc or email me a picture at happyquiltingmelissa@gmail.com. I can't wait to see your Quilts!!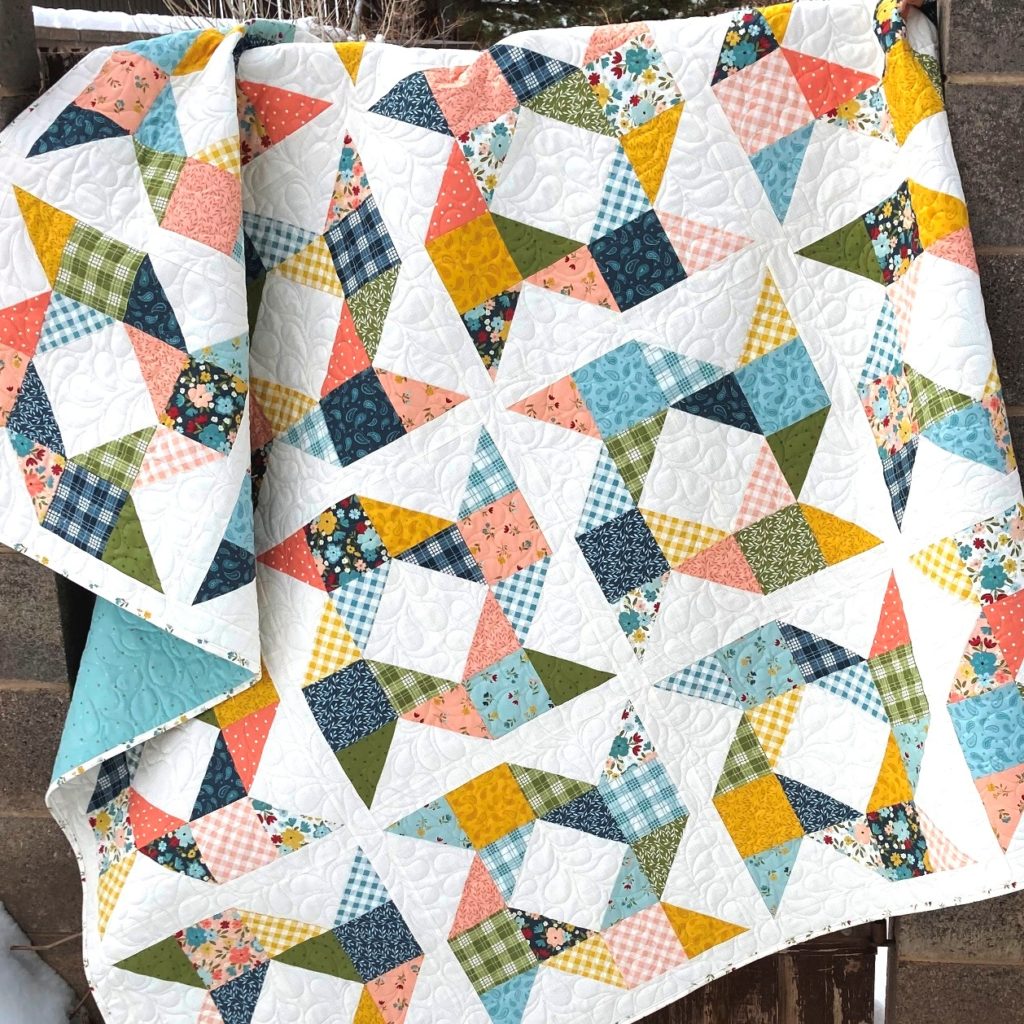 Oh, and one last note before I go . . . I am super excited to announce that the Fast & Fun Sampler Quilt Along will be starting soon! And wouldn't you know it, I am using Ally's Garden for one of the two versions I am making. Isn't it just so pretty with the gray background. There will be lot's more details coming soon, so be sure and follow. And you will need a copy of Fast & Fun Lap Quilts, so grab that if you don't already have it. I so hope you will quilt along with me!
And that is all for today :)
I hope you have a very Happy Quilting Day!!!