So have you heard about the Block Party over at Quilt Story?? Super fun!!! They have categories for Creative, Modern, and Traditional. I figured, I always have blocks that I am working on so why not give it a go??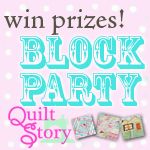 My Creative Block has now been turned into a mug rug that I love having on my wall by my machine. It's my new sewing mantra and it fits so well :) I chuckle a bit each time I see it.
My Modern Block is one that I made for my Bee recently. Personally, I think HST's are about as modern as it gets. Who ever came up with this idea props to you!!! So much better than sewing triangles together!! I really had a ton of fun designing the layout for this one. It just blows me away how you can take one layout and make it look like 20 different blocks just depending on how you insert colors and neutrals.
My Traditional Block is a new project I am working on. Gotta love Log Cabin Blocks!!! I am hoping to get to B - Z in the next month or so. Each letter will be done in different color-ways. What a fun way to use up scraps :) Oh, and I think I am going to add and eye to the alligator, he just seems like he is missing something
Now I know you have some blocks lying around. Go ahead and join the party. The more the merrier!!