Today, I am thrilled to be sharing one of my newest quilt finishes featuring the wonderfully patriotic Red, White, & True fabrics by Dani Mogstad for Riley Blake Designs. As soon as I saw this fantastic fabric line, I just knew it would be perfect. You see, I have been wanting to make a quilt from my Fast & Fun Lap Quilts book to show how amazing they would work as Quilts of Valor!!! Most of the quilts in my book fit the size recommended for Quilts of Valor, and what better way to whip up Fast & Fun Lap Quilts then to make it for such an amazing organization.
And here it is, my Diamond Dash Quilt featuring Red, White, & True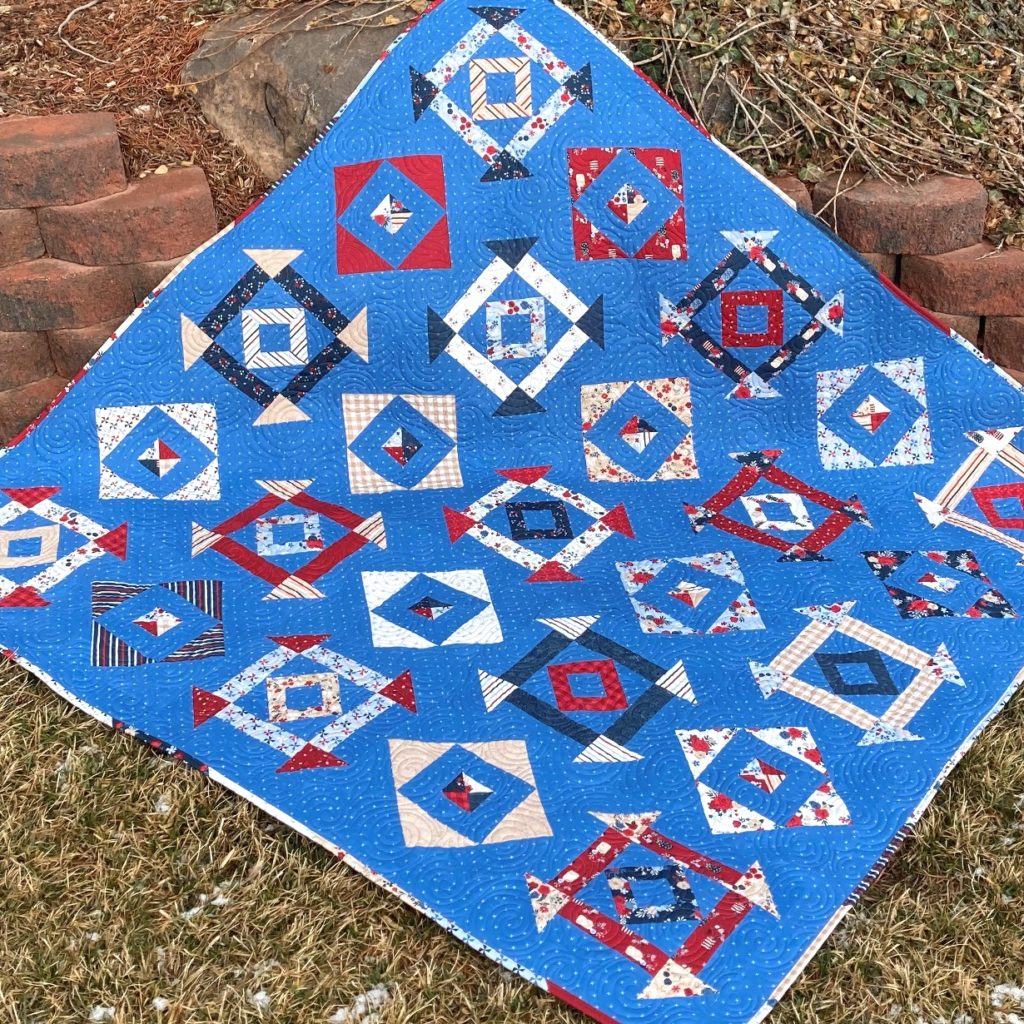 One of my favorite things about the quilts in my Fast & Fun Lap Quilts book is that they are all made from one Layer Cake/10" Stacker and a background fabric. So all I needed to get started was a Red, White, & True 10" Stacker and I combined it with the Denim Bee Cross Stitch Basic for the background and away I went.
Don't those blocks just pop in the Red, White, Blue (and Tan :) I feel like Diamond Dash was a perfect fit for this patriotic quilt. Diamond Dash got it's name from taking the basic Churn Dash Block, and adding a Diamond to the center of it. Then for fun, I added a secondary Diamond block and I think it is the perfect compliment to the bedazzled Churn Dash block. And I love that this design allows you to make it look super scrappy, even though it is made with a Layer Cake/10" Stacker. And guess what, that scrappy binding is from the Layer Cake/10" Stacker as well, not a bit of waste for this quilt!!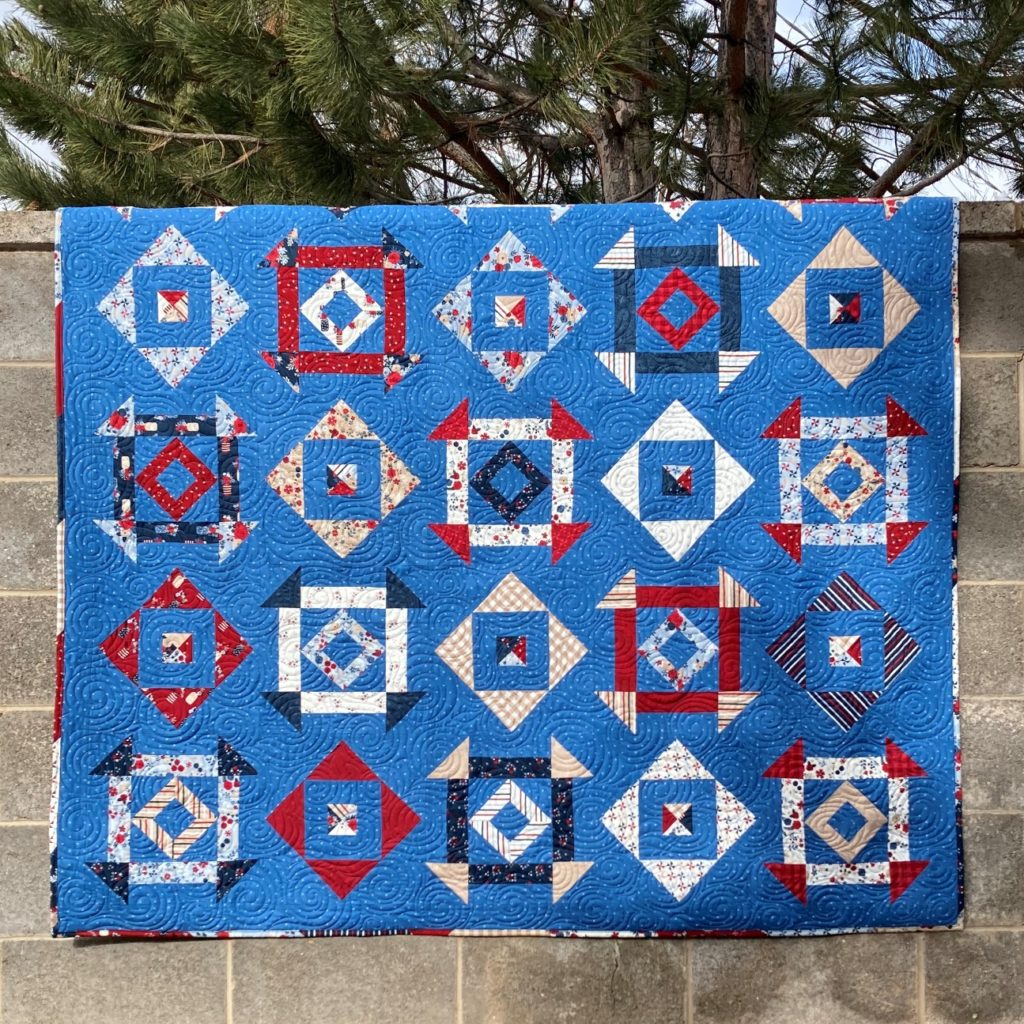 And Diamond Dash might look a little daunting, but it really goes together fast and is so fun to make!!! You will mostly be making Half Square Triangles, with a few little Stitch and Flips thrown in. Add a bit of basic piecing and you are done!! And when your blocks are all complete, it is super easy to sew them all together as there is no sashing and the Diamond blocks float, so less points to worry about lining up. It truly is great for beginners and experts alike. Diamond Dash finishes at 64 1/2" square, so it is a great lap size to wrap up someone special in. And of course, it is one of the 9 quilts featured in my Fast & Fun Lap Quilts book.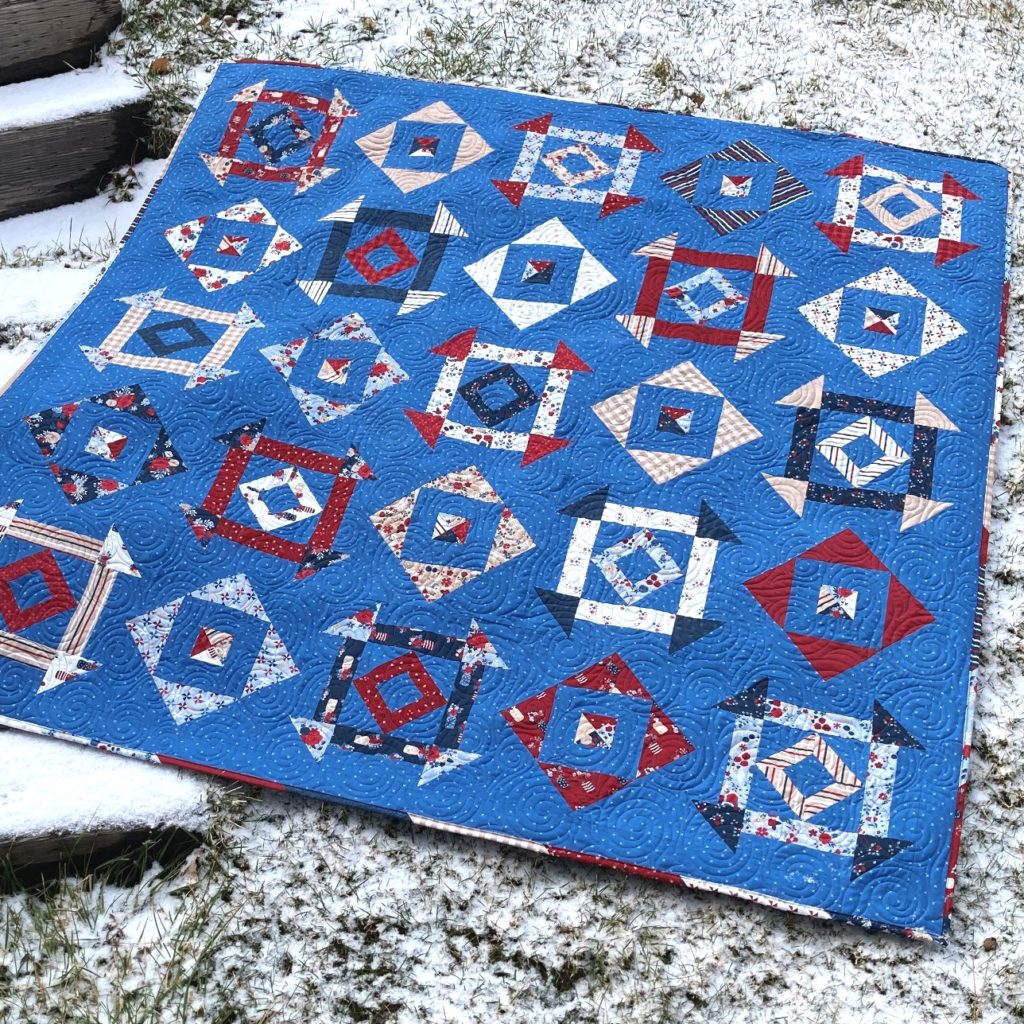 And when it came time to quilt mine, I decided to to an all over big swirl design. I love how it adds so much movement to all of those crisp points. And I don't often quilt on this large of a scale, but I really think it added to the overall effect of the quilt and I wanted to make sure it stayed nice and soft, and large scale quilting is always great for that.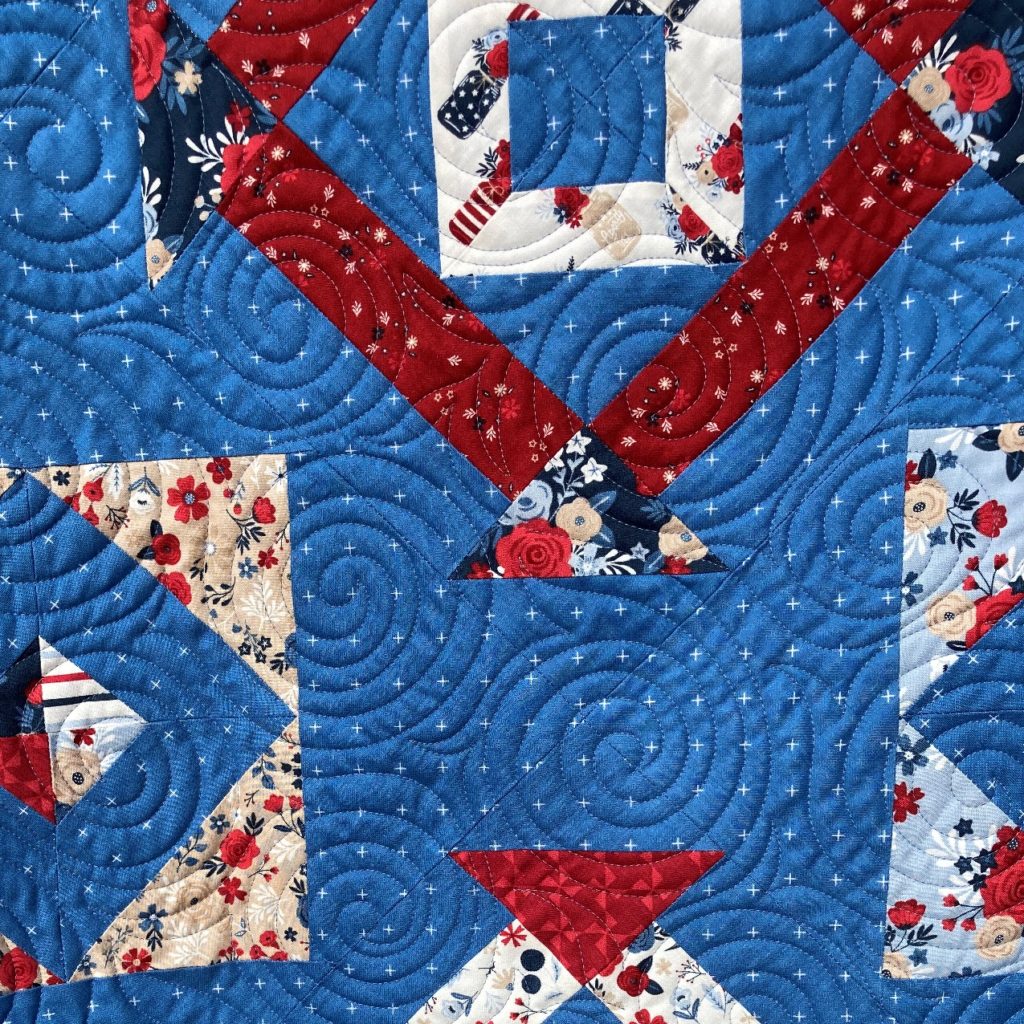 And that is my new Diamond Dash quilt! I hope you have enjoyed this post. To see more of my Fast & Fun Lap Quilts book, you can visit this post with all the quilts and all the details!!! Truly, all of the quilts in this book would make amazing Quilts of Valor. And again, to get started on any of the 9 quilts in the book , you just need one Layer Cake/10" Stacker and a background fabric. It just makes it so fun and fast to whip up these lap quilts!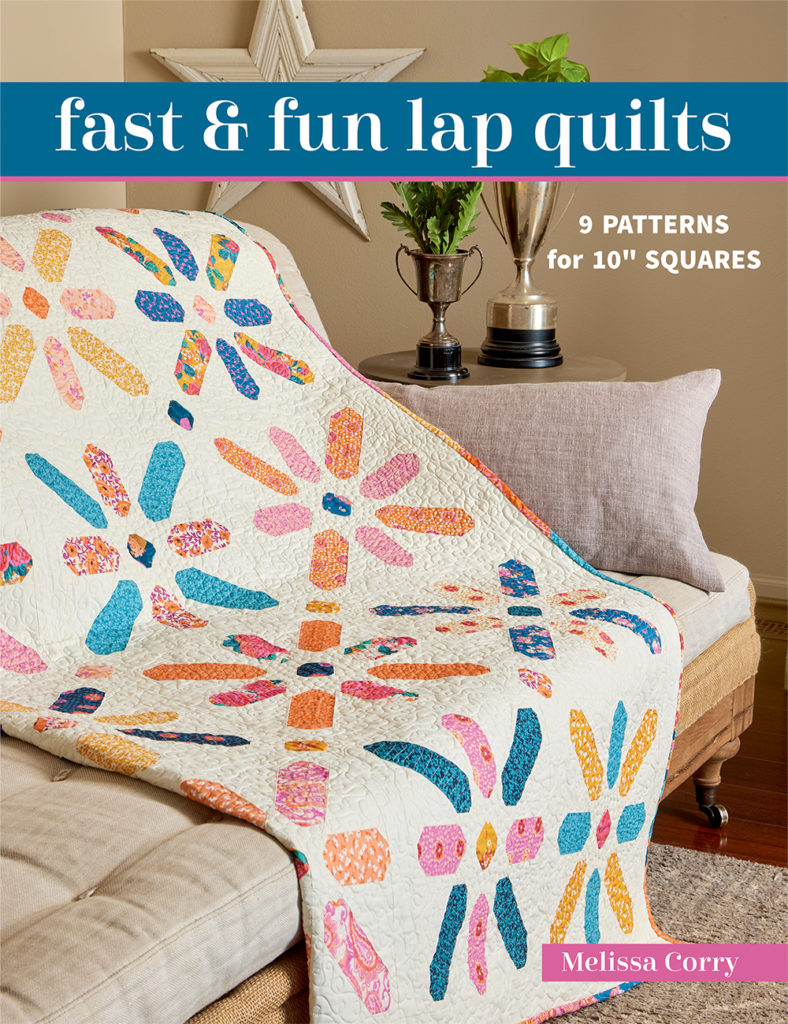 Oh, and if you make your own Diamond Dash Quilts, (or any of the quilts from Fast & Fun Lap Quilts) I would love to see them! You can share your projects with me on social media with the hashtags #happyquiltingwithmc and #fastandfunlapquilts and tagging @happyquiltingmc or email me a picture at happyquiltingmelissa@gmail.com. I can't wait to see your Quilts!!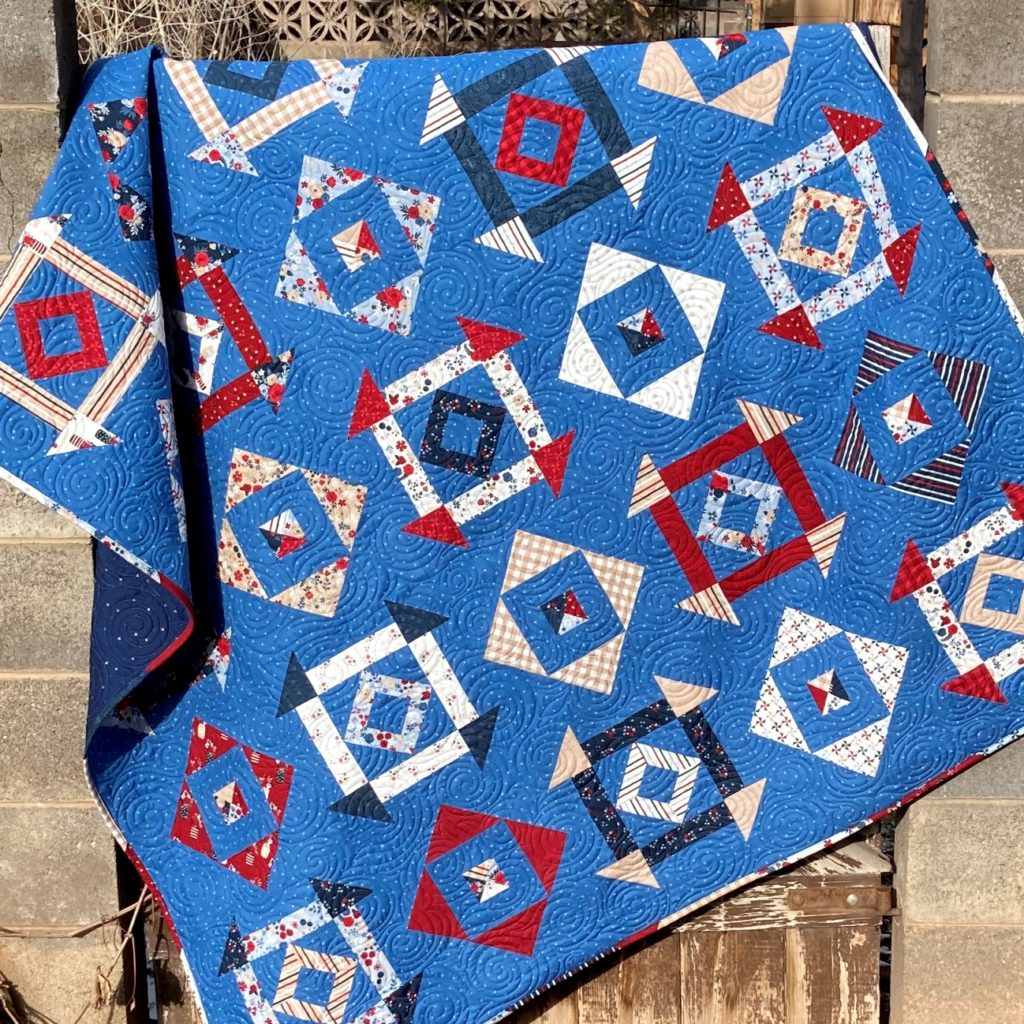 Oh, and one final reminder before I go. The Fast & Fun Sampler Quilt Along will start on April 5th, and we will be making blocks from each of the 9 quilts in the book and then combining them in this beautiful sampler layout! So grab a copy of Fast & Fun Lap Quilts, pop over to this post for all the details, and come quilt along with me!
I hope you have a very Happy Quilting Day!!!