It's day 5 of the Simply Charmed Blog Hop and of course, that means you will be hopping :) Where to today?? Why over to
Amy at Diary of a Quilter
!!! I was fortunate enough to meet Amy at the Sewing Summit and we have just become such great friends since. She is one of the nicest people I know!!!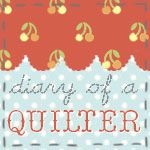 And she has created the sweetest little table quilt tutorial for all of you lucky blog hop readers. Aren't those little scrappy nine patches just so adorable!!! I think my table could so use one of these :)
Alright, time to start Hopping.
Pop on over to Diary of a Quilter
and see how to make this adorable table quilt to dress up your dining room table for the holiday :)
Oh, and while you are at
Diary of a Quilter
, don't forget to leave your comments for a chance to win a $25.00 Gift Certificate to
Burgundy Buttons
!!! Thank you Leah for your gracious sponsorship!!
Need to know when and where you will be hoping . . . Here's the schedule.
February 14 - Happy Valentines Day and the Grand Prize Winner Announcement!!!!