It's Day 3 of
Celebrate Mom
here at Happy Quilting!!! A fun filled week of daily guest posts and daily fabric giveaway's for you !!! Today, I am super excited to welcome my guest A
ngela Walters from Quilting is my Therapy
!!!
I was so tickled to meet Angela Walter's at fall quilt market when I got to hold her quilts for her schoolhouse. I instantly found her to be a wonderfully delightful person and now a friend! Angela is a
tremendously talented long arm quilter,
author of 2 book
s,
fabric designer for Art Gallery Fabrics
, A teacher of countless quilting classes, including
virtual Craftsy classes
, and a Mom too!!! That is quite the list!!! So without further ado, let's toss it over to Angela!!
Hi, I'm Angela,
A close friend in the industry, who happens to be a mom of young
children
recently confided in me that she was feeling a little overwhelmed with trying to get everything done. In her email, she quipped, "Feel free to share any pointers that you might have, Super Mom!"
That was a stab to my heart.....I hate for anyone to think that I have anything together. Sometimes, as a work-at-home mom, I feel like I am hanging on by my fingernails.
You may think that my family looks like this....
but, in reality most days it's a little different version at our house.
If I had any "secret" to share, it would be that I don't believe in a the concept of "balance". I used to always say that I just needed to find balance.....a way to get my work done and spend time with my kids. But then I realized that there is no such thing as balance. My life is constantly changing.....one day, I may be able to get a little more work done. The very next day may be all about the children. I try to take each day at a time and try to find the balance that works within that day, knowing full well that

tomorrow

may be completely different.
Before I go to sleep every night, I try to focus on the things that I have accomplished that day (even if it is just the fact that I took a shower!!) instead of focusing on what is left to do!
If I have spent too much time quilting and haven't planned dinner, my go-to meal is to grab a rotisserie chicken from the grocery store. I heat up some frozen veggies and apple slices. The kids love it and comes together super fast.
Speaking of dinner....I guess it's time to tackle that stack of dishes!
--Angela
Thank you so much to Angela Walters for being part of this Celebrate Mom event! And have you heard about Angela's
Make It Right Challenge
. The challenge uses the Right Angels panel from Angela's Textures line to create a project. Oh, and there are lots of cash prizes at stake!!! Be sure to
check it out
:)
And let's finish up with today's Giveaway!!!
Today's Celebrate Mom Giveaway is sponsored by
The Scarlet Thread Quilt Co.
One lucky winner will have this Spring Fat Quarter Collection put together by Julie as their Mother's Day gift!! Don't these beautiful prints just make you want to breath in Spring!!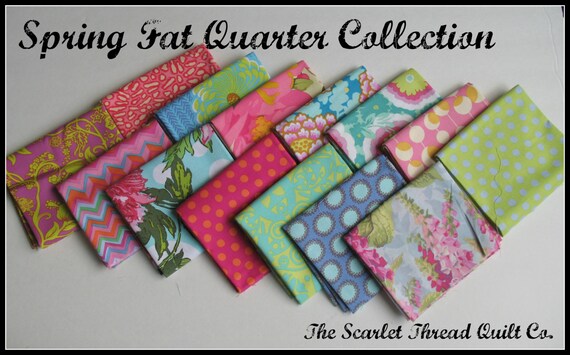 So what do you have to do for your chance to win???
Leave a comment here of your favorite
i
tem in Julie's shop,
The Scarlet Thread Quilt Co
.
That's it. Up to 1 entry per person. Giveaway is open to international entries. It will close on Friday, May 10th and a winner will be selected randomly and announced shortly after.
Thanks for stopping by and be sure to come back tomorrow when
Maureen Cracknell
will be stopping by and
Christa Quilts
will be hosting another fabulous giveaway!!!
Linking up to
Sew Mama Sew