It's Day 2 of
Celebrate Mom
here at Happy Quilting!!! A fun filled week of daily guest posts and daily fabric giveaway's for you !!! Today, I am super excited to welcome my guests,
Heather and Megan from Quilt Story
!!
Heather and Megan are quite the dynamic duo!! They created
Quilt Story
as a place to share their passion for quilting with lots of
fun filled tutorials
, a weekly
Fabric Tuesday linky
, and a
fabulous block of the month
program. But Quilt Story is also a place for other quilters to show their fabulous finishes and share the stories behind their quilts. Heather and Megan also keep up a wonderful
Pattern Company
all while still taking care of their families. So let's here how they do it!! Take it away ladies :)
Thank you so much for having us Melissa! My name is Megan, my sister Heather and I blog at
Quilt Story
! Our blog features other quilters as well as our own patterns and projects. I think all of us quilting/creative/sewing/blogging Momma's find ourselves with the same problem...how to balance it all! And I do not have the answer for you!! :) My husband is graduating from medical school in 1 week (hooray!!) and we have three little kids, almost 6 years, 4 years and 6 months. Here we all are at Easter:
I don't know if I have any pictures of my kids helping me create!! Here are a couple of little funny stories and ideas on how I try to stay balanced!
When they were a little smaller we would play store with my fabric, they loved it. They also love to find patterns and help me go through my scraps! When they were 2-3 it was such a fun game to "find the purple fabrics" or "find the hearts".
My oldest son is very much a thinker and he likes puzzles. Last year he saw me working out of a quilt book with blocks that were in B&W. He took my scraps and would re-create the blocks. I was amazed at how well he could do it!
Every box we receive the kids think is fabric :)
They get excited with me just to indulge me...which is so sweet.
Once when my second son was soooo mad at me he thought of the meanest thing he could say to me and yelled, "Your fabric isn't cute!!!!!!"
My boy's don't get too excited about things I make. They will indulge me, like I said, and say "yeah that's cute" and go back to what they're doing. I have started a tradition to make them a quilt when they turn 4. (And when they're born). Here is Sawyer with his quilt:
And they do like that. I have a their names and a message on the back.
Ollie turned 4 in January and his quilt is done, but I still need to post about it. Stay tuned!
This isn't as much of a recipe as a super-fast dinner when you need one and you usually have the ingredients. I made this the other night and it had been a while! We're in the process of moving so faster the better.
What you need:
French Bread
Ranch Dressing
Tomatoes
Shredded Cheese
Slice up the french bread and put a layer of ranch. Take sliced tomatoes and add on top, with a little salt. Next cover with cheese. Broil on low until cheese is melted. Eat hot!
So in the end, I think at best I can say I try to limit my time creating and blogging when my kids are awake/home to a minimum. They just don't stay little forever! I do a majority of blogging after they are in bed. And sometimes when I'm in a panic I stop and think "okay, this blog post can honestly wait a few hours" or days. :) Thank you so much for having us!!! And stop by
Quilt Story
and say hi!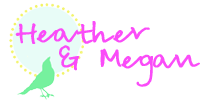 Thank you so much to Heather and Megan for being my guest today!!
And let's finish up with today's Giveaway!!!
Today's Celebrate Mom Giveaway is sponsored by
Fat Quarter Shop
. One lucky winner will have this beautiful Happy Go Lucky Jelly Roll by Bonnie and Camille as their Mother's Day gift!! I have worked with this line already and it is fantastic!!!
So what do you have to do for your chance to win???
Leave a comment here of your favorite
Jelly Roll Fat Quarter Shop
carries. There's a whole lot to choose from, so good luck :)
That's it. Up to 1 entry per person. Giveaway is open to international entries. It will close on Friday, May 10th and a winner will be selected randomly and announced shortly after.
Thanks for stopping by and be sure to come back tomorrow when
Angela Walters
will be stopping by and
The Scarlet Thread Quilt Co
. will be hosting another fabulous giveaway!!!
Linking up to
Sew Mama Sew Giveaway Day
:)