It's Day 1 of Celebrate Mom here at Happy Quilting!!! If you missed the
intro post
, Celebrate Mom is a week long event that will include
daily guest posts
from some of my good friends on their mom/quilty adventure and a fave dinner recipe as well as
daily fabric giveaway's
for you !!! So be sure to pop in each day this week so you don't miss any of the celebration!!
Today, is also
Sew Mama Sew Giveaway day
!!! When I originally scheduled Celebrate Mom I didn't realize it was over Sew Mama Sew Giveaway day. Now I haven't missed one of these in years, and I wasn't about to start. So today's post is doing double duty!! (*giveaway is at the end of the post :)
I am so excited to start the Celebrate Mom event off. I have gotten so many email from you all letting me know how much you are anticipating this week, and I have to say that and I am too!!! So, let's get going!!!
I am a wife of almost 13 years and a mom of 5 :) Our children are Spencer (10), Jessica (7), Kristian (6), Kamryn (4), and Jocelyn (18 mo). So ya, things are always hopping over at the Corry household. I am often asked, "How do you manage all the quilting with so many little ones?" We'll, today, I am going to tell you a bit about how we attempt to do that :)
I like structure. I was an accountant before I was a mom so it's not surprising, lining things up is just in my nature. I have a daily routine that I stick to pretty much every day. (with the occasional bend for craziness ;) So, here's a typical weekday to give you an idea of how it works. (sometimes :)
6:00 - 8:00- exercise / computer time (ie blogging, designing, emailing, ect.)
8:00 - 11:30 - tidy up, run errands, homework for K guy, and general play and silliness
11:30 - 12:30 - Lunch time (the kids eat while I catch up on email, why does it take kids so long to eat??)
12:30 - 1:00 - Afternoon Transition. ( take to K, Wee ones lay down, and lunch break with husband )
1:00 - 2:30/4:00) NAP TIME aka SEWING TIME
4:00 - 5:00 homework and prepare dinner
5:00 - 6:00 - dinner time
6:00 - 8:00 - family time - (aka yardwork, games, walks, chores, sports, run around real crazy like time :)
8:00 - 10:00 - Unwind - Press and Pin time
10:00 - Go to sleep to start it all over again :)
I find that when I try to stick to this schedule, as much as possible, that I have lots of time for my sewing, but still make lots of time for my kids. (but it should be noted, I have no spare time for anything else, I don't remember the last time I watched tv in the daytime, and I listen to books now instead of reading them) For me, It comes down to making time for what I like to do :)
Okay, so are looking at the schedule and wondering how Unwind - Press & Pin go together?? This is a great way I have found for maximizing my sewing time!!! I guess you could say it is my little Time Tidbit :)
You see, I have a limited nap time and didn't want to waste a second of it, and I have tried to work in the evening but honestly, I am tired in the evenings and not very productive. So now, during my nap time sewing, I rarely press or pin. I will cut for one project and then set it aside. I will chain stitch up a huge pile and then set it aside. I will do this for as much time as I have sometimes working on 3-4 projects.
Then . . . in the evening, after the wee ones go to bed, I bring up my ironing board, set it over my bed, and remove pins, clip threads, and press the massive pile I stitched that day. Once the pressing is done, I pin the pieces I want to sew the next day. Both pressing and pinning take next to no brain power, so while I prepare for the next day of sewing, my husband checks sports, while we both watch a movie or some tv, or just chat about life and so forth, all while spending time together and unwinding from the day. Fantastic!!!
Now . . . just so you don't think everyday runs perfect, here is a little taste of what happens when we get off schedule a bit. Deadline looming and I find sewing time is spilling into morning or evening . . . Well then I have assistants who hand me pins, put away pins, or use my chair to make pin cusion designs. (they have not poked me once . . . so far)
Or, if they are not in a helping mood and want to be artistic, out come the designated scraps for scrap collages. (Yes, I have scraps for me and scraps for them.)
Or, the good old fall back, just turn my sewing room into a toy room ;)
And if I find I have to finish a blog post, or I just need a few more minutes to finish a design, I get a musical pot symphony around me, and/or a computer typing buddy.
And of course, on those crazy days, you need a quick fixing meal. Our family loves
Chicken Kisses
. It's just like campfire tinfoil dinners but done on your bbq :) And you can totally change it up for whatever you have on hand. Any meat, potatoes, any veggie, a little sauce (everyone likes different, a few BBQ, a few Ranch, and one Fry Sauce) and 30 minutes on the grill to perfection!!! A family favorite that is easy to cook and fun for the kids to eat :)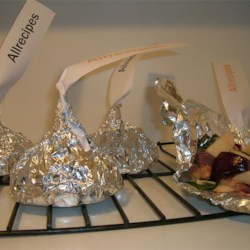 Image courtsey of allrecipes.com
So in summary, what works for us is to try to be structured as much as possible, and really make the most of the good days, so that on those other's day we can be flexible and know that things will be back to normal soon :)
And with that, let's get to our first giveaway!!!
Today's Celebreate Mom/Sew Mama Sew Giveaway Day is sponsored by
Green Fairy Quilts.
And Judy has a fabulous giveaway for you indeed!!! One lucky winner will have this beautiful Posy Fat Quarter Bundle by Aneela Hoey for Moda as their Mother's Day gift!! The prints in this line are just adorable and the colors are swoon worthy!!!
So what do you have to do for your chance to win???
Leave a comment here of your favorite Fat Quarter Bundle Judy carries in her shop,
Green Fairy Quilts.
That's it. Up to 1 entry per person. Giveaway is open to international entries. It will close on Friday, May 10th and a winner will be selected randomly and announced shortly after.
Thanks for stopping by and be sure to come back tomorrow when
Heather and Meagan from Quilt Story
will be stopping by and
Fat Quarter Shop
will be hosting another fabulous giveaway!!!