Today is my stop on the
Playful Petals Blog Tour
and I am super excited to share with you some of my thoughts and my project from Corey's amazing book!!! Corey was part of my first online bee and has become a wonderful friend. We even got to meet in person at the last market, where we got shushed during a schoolhouse for chatting to much ;) Corey has always impressed me with her beautiful applique skills and I was so excited to see that her book focuses on petal applique.
No it is no secret that I love applique, but no worries, if you are new to applique and the thought of it makes you want to run for the hills, well slow down. Corey has an entire section in the book dedicated to the basics of applique. It walks you through step by step how to do fusible applique. And it is so fun!!!
This book is filled with so many amazing projects. There are 9 gorgeous quilt designs and then 9 matching pillow designs to go along with the quilt. So fun!!! Corey has such an amazing sense of design and color it made it super hard to pick a project. Since the theme of this hop is Make It Mini, I decided I wanted to make one of the coordinating pillows, because nothing says Mini Project like a pillow ;) After a lot of back and forth debating, I finally decided on the Daisy Fields pillow. Here they are from the book. So pretty!!!
And here is my Daisy Fields Pillow ;)
This little mini project was so much fun to put together!!! I love the instant gratification of seeing a project from start to finish in an afternoon. I was a little nervous when it came time to turn it from a quilted top to a pillow, because honestly, I haven't done that in a little while.
But there was no need to worry, because Corey has a wonderful Pillow Finishing guide, that reminded me the steps for finishing up my project. Thanks Corey!!!
I used fabrics from
Art Gallery's Poetica line
and then some solid Pure Elements. I love these beautiful bold prints, they really just make this pillow pop!!
And for the back, I had a favorite fat quarter of
Tula Pink's Birds and the Bees
stashed away that was just perfect for finishing this project. I added the binding strip on the cover for that extra little finishing touch ;) Love it!!
And I choose these prints and colors, because they play so nicely with the
Joel Dewberry's Heirloom
prints that make up my daughter's
Stars Bedspread
that I did as my second Quilt-A-Long ;) Aren't they just so happy together ;)
And this is where this pillow will live :) She picked out this fun plush reading chair a few days ago and it just needed an extra little pop, quite serendipitous don't you think ;)
So there is just one fun project from Corey's amazing book!!! Be sure to f
ollow along with the hop
to see more Playful Petals inspiration!! There are just so many great projects I know you are going to love them!!! This book has certainly made my "to make" list longer ;) Oh, and a final note, there just happens to be a pretty great giveaway at the end of the hop, just sayin :)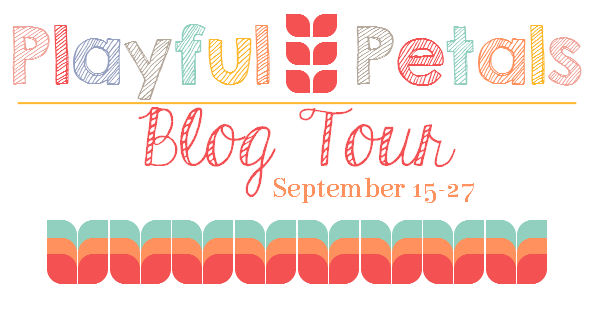 Have a Happy Quilting Day!!!