Today I am thrilled to be sharing one of my newest quilt finishes. I just can't get enough of making more Fast & Fun Lap Quilts :) This time, I made Aurora, and used the super sweet Honeycomb Hill fabrics by Katherine Lenius . We continue to get snow here in Southern Utah, so I have been all about making quilts that will bring on Spring!! And I think it might finally be here!! So what better way to welcome it in that ha happy spring quilt. Here is Aurora in Honeycomb Hill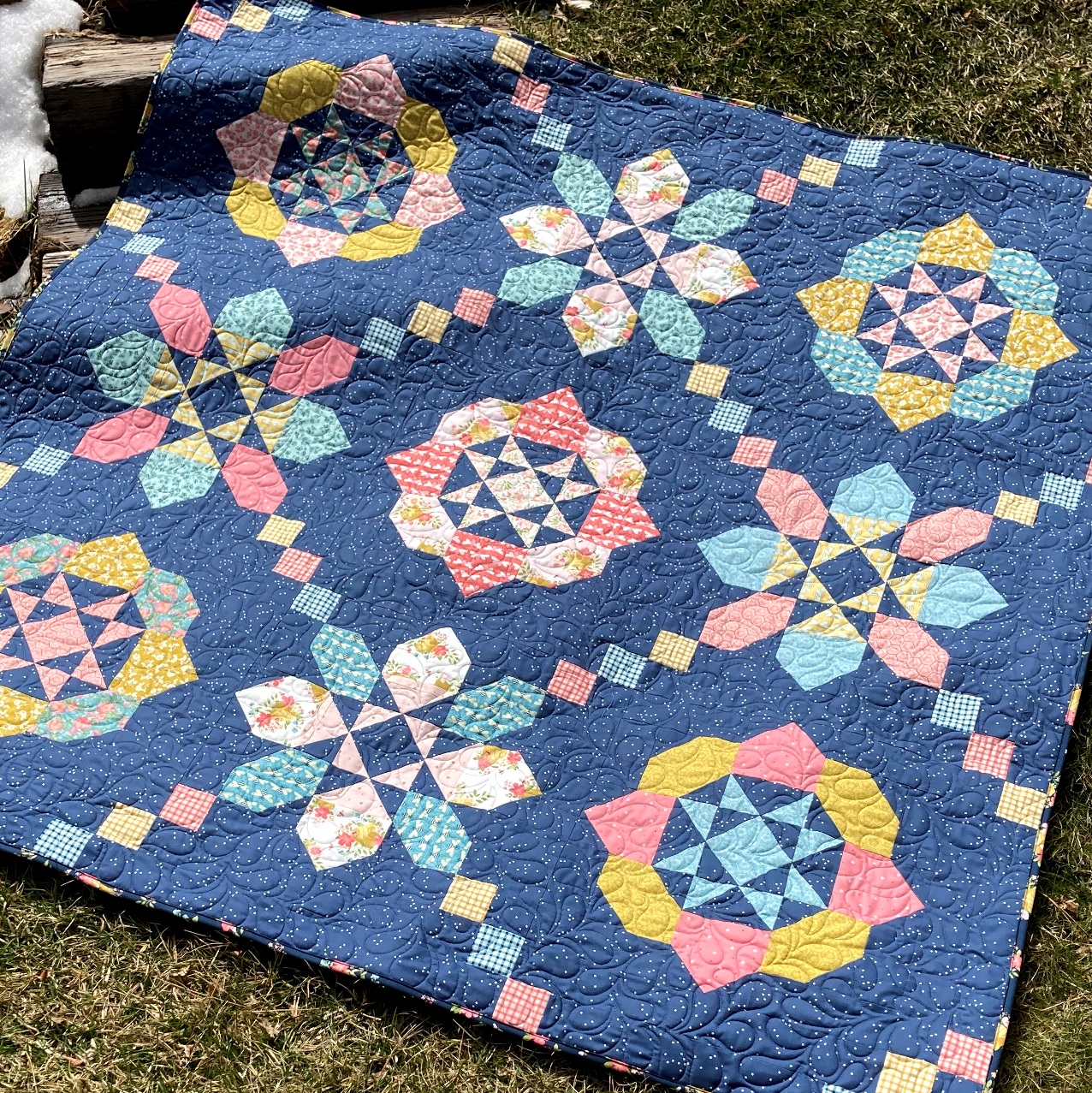 What I really love about the quilts in my Fast & Fun Lap Quilts book is that they are all made from one Layer Cake / 10" Stacker and a background fabric. So all I needed to get started was a Honeycomb Hill 10 Inch Stacker. I decided to pull out the navy prints from the line (I used one in the binding) so that I could use a beautiful Oxford Blossom for the background. I love the way that beautiful blue just makes all of those Spring Colors in Honeycomb Hill just pop!!!
And didn't it just turn out so beautiful!!! I really love how the combination of these fabrics really made the stars in the center of both blocks stand out, whether they are in the print or the background. So pretty!! I also purposely used the gingham prints in the "chain" and I think they are just a perfect fit there. Aurora really lets you play with where you want the prints in each component of the design, and I had such a great time mixing and matching these prints to make each block shine!!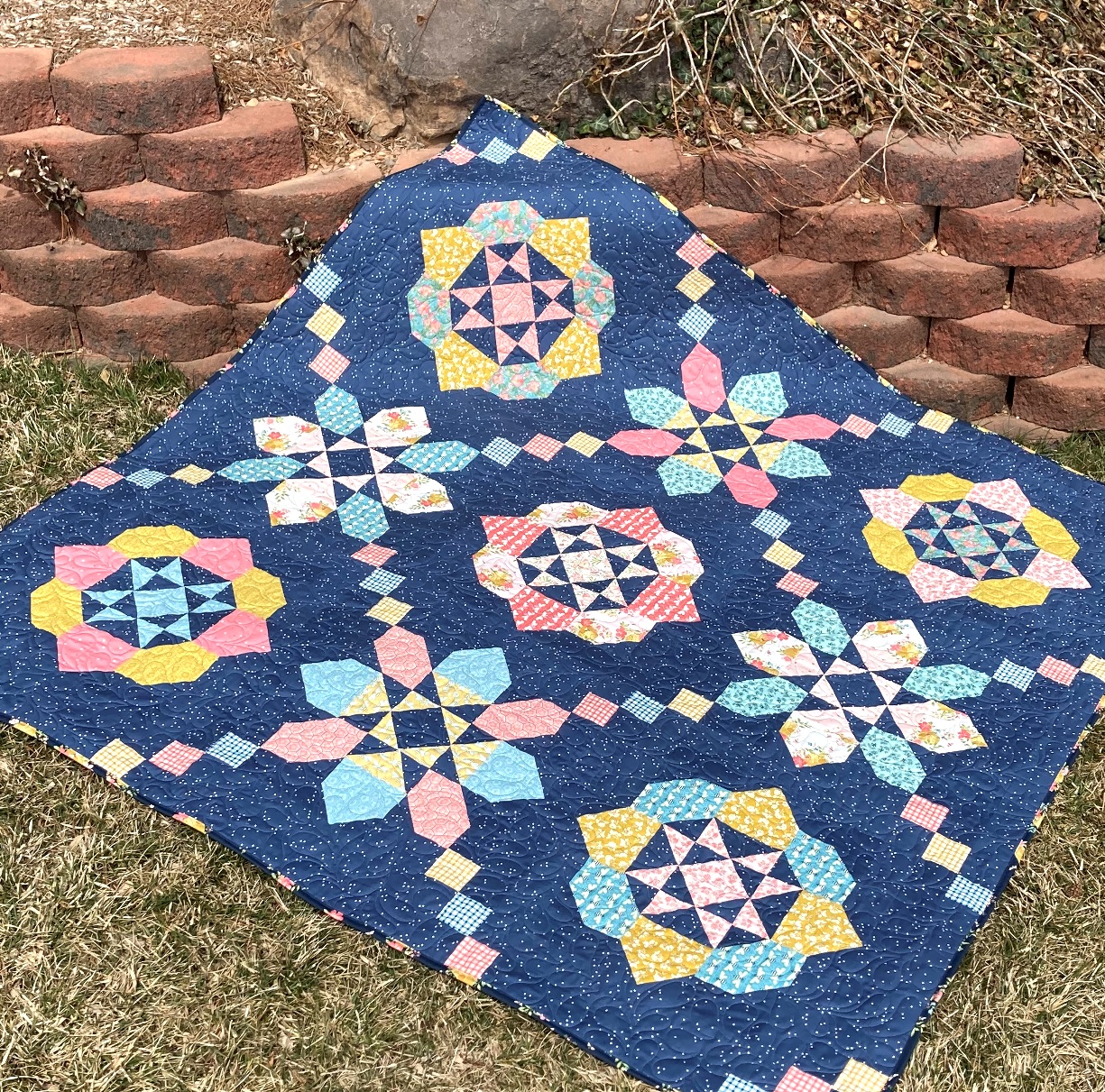 Aurora might look like a little complex, but it truly is a super fast quilt to whip up and oh so much fun to make. The cool thing about Aurora, even though the blocks look completely different, they are made using the same techniques. It is just fabric placement changes and unit orientation that gives you two different blocks, but they are made the same way. So great!!! Aurora finishes at 68" square, so it is a great lap size to snuggle up in.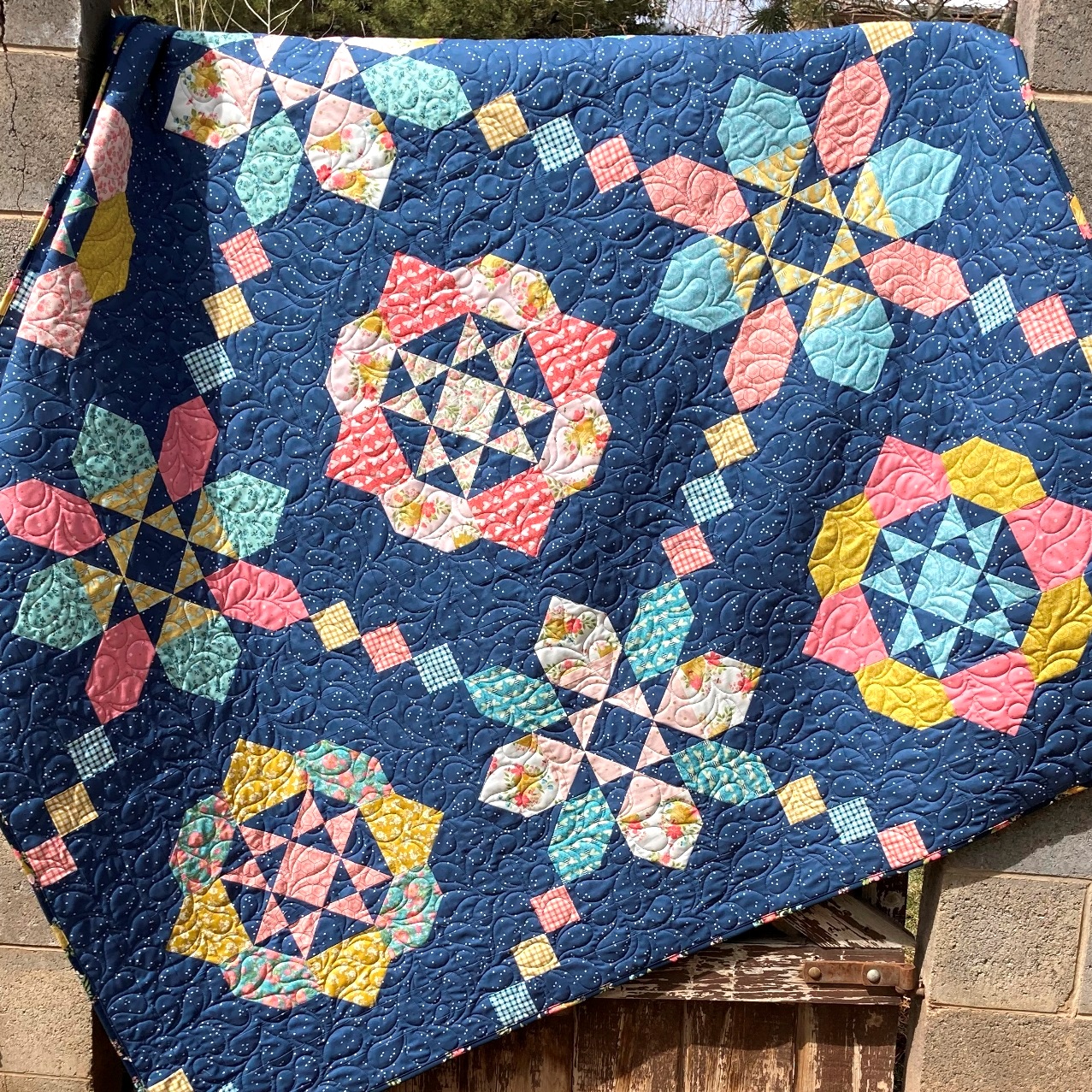 And when it came time to quilt mine, I decided to to an all over Loose Feather design. I love how it complements the prints in the line with all the swooping leaves and flowers. It really just adds to the spring feel as it looks like vines growing across the quilt. And of course, it is a super relaxing design to quilt and is super fast as well, double bonus!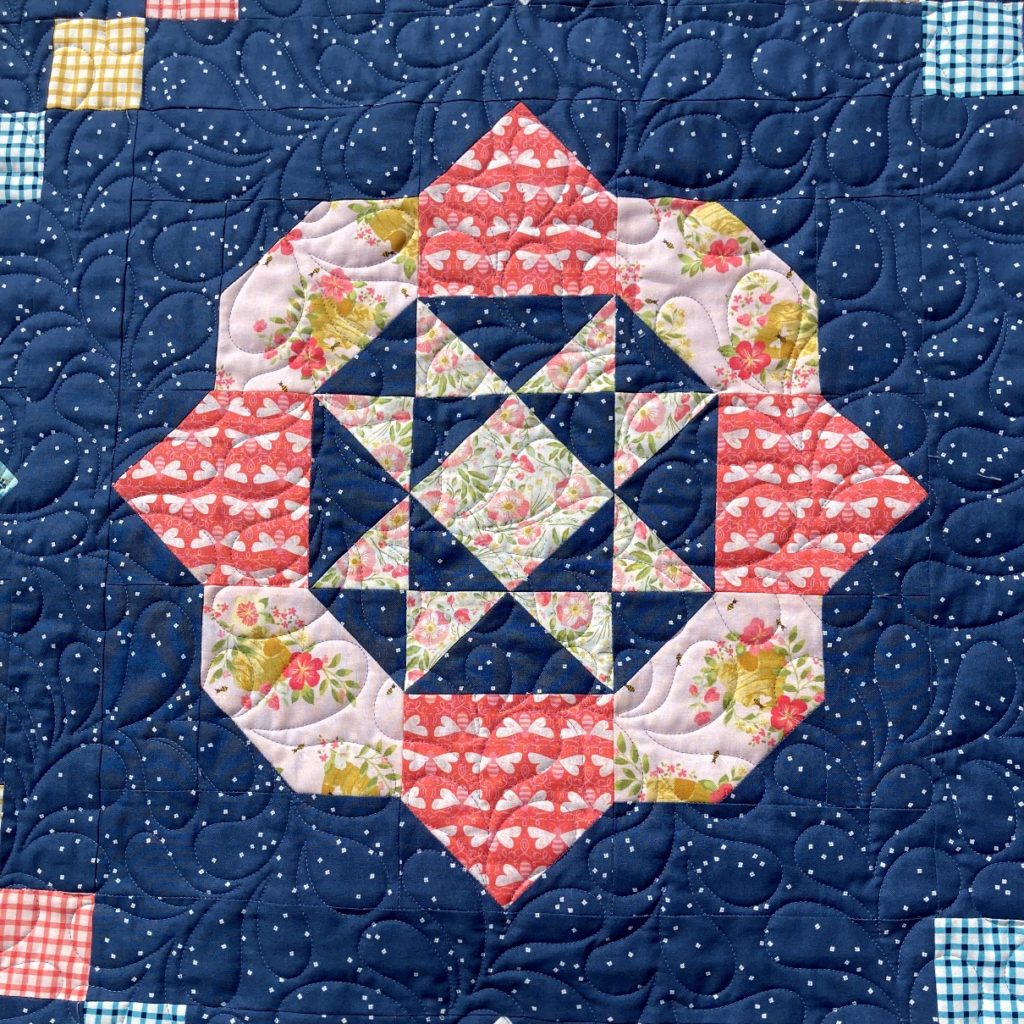 And that is my new Aurora quilt and I just love it and am excited to add it to my collection of quilts from this book. To see more of my Fast & Fun Lap Quilts book, you can visit this page and see all the quilts. Again, each of the 9 quilts in the book are made with one Layer Cake/10" Stacker and a background fabric. It just makes it so fun and easy to whip up these lap quilts!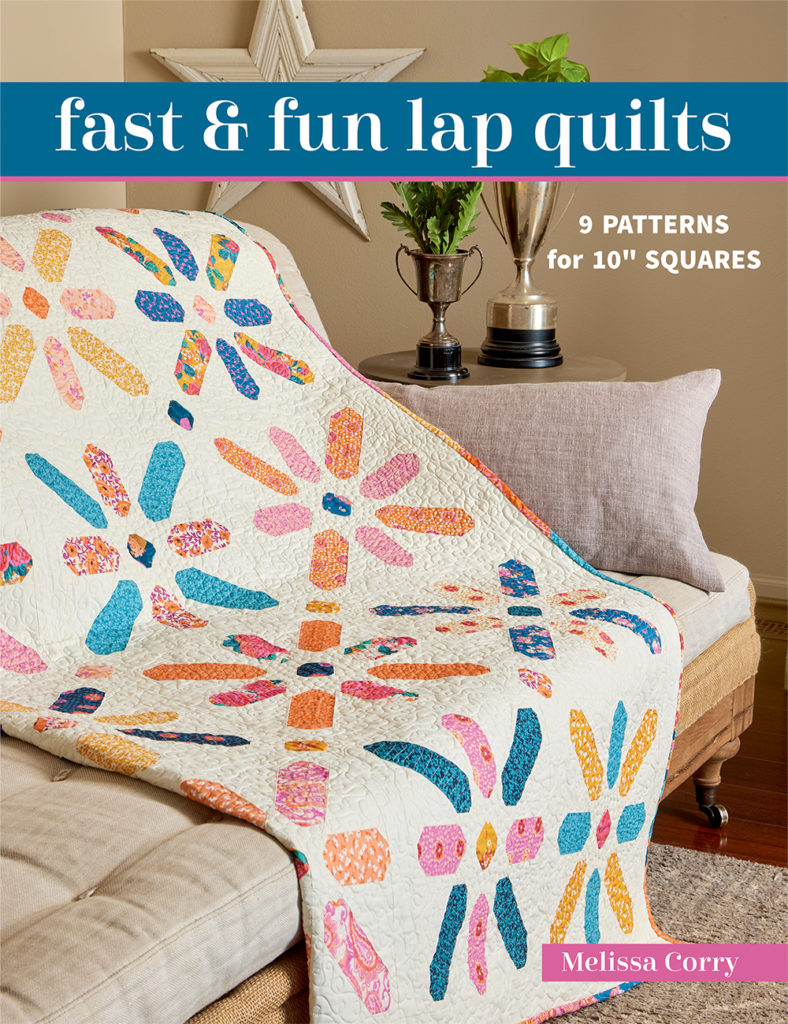 Oh, and if you make your own Aurora Quilt, (or any of the quilts from Fast & Fun Lap Quilts) I would love to see them! You can share your projects with me on social media with the hashtags #happyquiltingwithmc and #fastandfunlapquilts and tagging @happyquiltingmc or email me a picture at happyquiltingmelissa@gmail.com. I can't wait to see your Quilts!!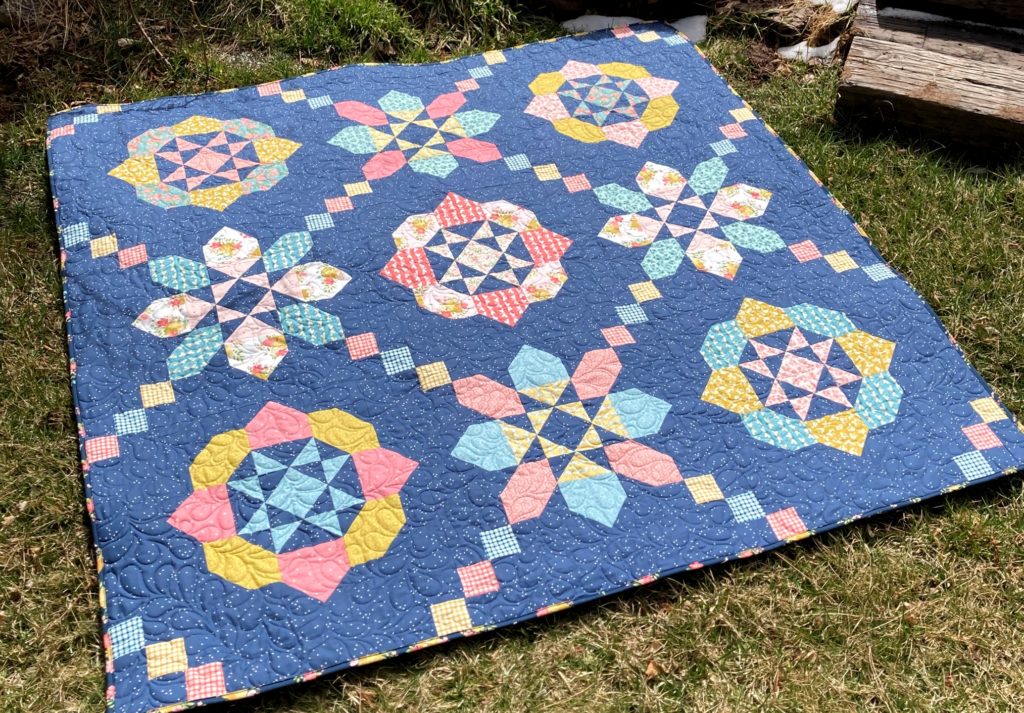 And just a reminder before I sign off . . . Yesterday marked the beginning of Week 2 of the Fast & Fun Sampler quilt along. It's not to late to join in the fun :)
I hope you have a very Happy Quilting Day!!!